This Aussie Model's #DropThePlus Campaign Proves That Size Is Just a Number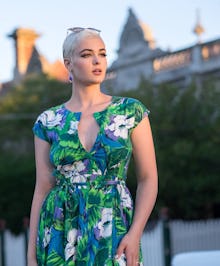 #DropThePlus is a new campaign aiming to get rid of the size hierarchy in fashion.
Australian-born model Stefania Ferrario, who is the current face of Dita Von Teese's lingerie line, recently joined Australia's The Biggest Loser host Ajay Rochester in the campaign's goal of eliminating the label "plus size." The two, along with scores of women who have tweeted under the hashtag #DropThePlus in solidarity, are tired of the negative connotations prescribed by the label. 
To Ferrario, who is a size 8, modifiers like "plus size" reinforce the idea that only skinny women are the right, or "normal," size. "I am a model FULL STOP," she wrote in a photo caption on Instagram. 
Given that the average woman in America is a size 14, not to mention the fact that in the fashion industry a plus-size model begins at a size 6, the #DropThePlus campaign taps into a necessary, larger revolution in how we think about women's bodies.
Ferrario's statement is intended to call attention to the negative connotations associated with the "plus size" label. As she writes in her Instagram post, "I'm often labelled a 'plus size' model. I do NOT find this empowering.... Let's have models of ALL shapes, sizes and ethnicities, and drop the misleading labels. I'm NOT proud to be called 'plus', but I AM proud to be called a 'model', that is my profession!"
Many on social media agree, and the #DropThePlus campaign picked up steam on Twitter:
While much of the feedback has been positive, some disagree with the aim of the campaign. They contend that they do, in fact, feel empowered by the label, and that the "plus size" designation both calls attention to and calls out the size hierarchy in fashion. 
Model Laura Wells responded to Rochester's complaint that Wells was not plus size in an Instagram post of her own, writing, "I understand the negative impacts using the words 'plus size' on me has on society, I post about it all the time." She then explained how the logic of #DropThePlus also could be construed as a form of body-shaming. 
"We need to stop shaming other people's bodies, be happy that models like me are helping to change the tide of the industry. I do promote healthy positive body image. I do promote size diversity and beauty beyond size 0. I also promote being a happy and healthy person and being apart of something bigger then yourself, for me thats helping the environment!"
At the end of the day, those advocating #DropThePlus and those in favor of keeping it both want the same thing: body acceptance for all sizes. For Ferrario and her supporters, the language of "plus" shames women by implying that their bodies aren't "normal" — an egregious sentiment, considering that the average size in America is so far from what we see walking the runways. 
Fashion should not be about making people feel insecure; it should be about making people feel fabulous.
h/t Buzzfeed