Germanwings Airbus A320 Crashes in French Alps with 150 People on Board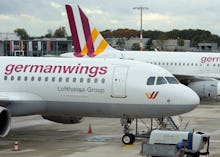 A Germanwings flight traveling from Barcelona, Spain, to Duesseldorf, Germany, crashed in the French Alps Tuesday with 150 people on board, all of whom are feared dead.
French President Francois Hollande, after consulting the search and rescue teams, said he believed none of the people aboard the flight were likely to have survived. According to the Associated Press, Germanwings says there were six crew members and 144 passengers on board, many of whom are believed to be Germans.
"The conditions of the accident, which have not yet been clarified, lead us to think there are no survivors, Hollande said in a press briefing, according to Reuters. 
French Interior Ministry spokesman Pierre-Henry Brandet said the Germanwings Airbus A320 crashed into a mountainous zone at a 6,550-foot altitude around 10:45 a.m. local time, shortly after putting out a distress call, according to the Associated Press. 
The plane was last seen in southeast France, and head of regional council Eric Ciotti said the crash site was near a popular ski resort in Meolans-Revels, reports the AP, a small region of roughly 50 square miles and a population of 300. 
Because the crash site is located in a particularly hard to access area, the AP reports Brandet expects "an extremely long and extremely difficult" search and rescue operation.
"This is a tragedy that has happened on French soil," Hollande said in a press briefing in Paris, reports Bloomberg. "We need to show all support in the face of this drama."
Germanwings is a lower-cost line of flights operated by Lufthansa, Germany's largest airline. However, there is no reason to speculate that the budget nature of the flight should raise any red flags over the plane's safety. In fact, the Airbus A320 is considered one of the safest planes in the air.
Over Twitter, Lufthansa CEO Carsten Spohr confirmed once again few details are known.
It is not yet clear what caused the crash. Germanwings announced on Twitter that it is actively investigating the crash and will provide updates to the media as soon as possible. 
In 2014, eight commercial aircrafts crashed or disappeared. So far, in 2015, the Germanwings flight is the third commercial flight to crash.
Updated: March 24, 8:47 a.m.