These Are the Best Cities to Live in Without a Car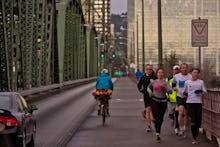 George Rose/Getty Images
The U.S. is known for its addiction to the automobile, but there are signs that it wants to quit. 
According to CityLab, the country has likely hit "peak car." The obvious explanation for this recent phenomenon is the recession combined with high gas prices. But a number of studies suggest that declines in car purchases and driving also reflect a deeper, deliberate shift away from the automobile. Driving is increasingly expensive. It's bad for the environment. The Internet allows more and more people to work without having to commute, and shop without having to go to a store. Student debt has hampered younger Americans' abilities and inclinations to invest in a car, which costs close to $9,000 a year on average.
But if you move to the right city, there's no need for them at all.
Walk Score, a private company based in Seattle, has developed indices that measure the relative ease of living without a car in the 3,000 largest U.S. cities. The company rates cities on a scale of 0 to 100 on their public transit capacity, bike-friendliness and walkability, using methodologies that calculate infrastructure robustness and travel efficiency.
Below are the 10 most public transit-friendly American cities, according to Walk Score's 2014 quality assessment. Bike-friendliness and walkability scores are included in the descriptions of every city, but they aren't factored into the overall ranking as the average person in a city relies on public transportation more than walking or biking to meet their daily needs.
10. Portland
Transit score: 50
Biker's paradise: Portland, Oregon, is perhaps the hippest and most-mocked city in the U.S. It's also one of the best cities to live in without a car, and is a widely cited example of transit-oriented New Urbanist development. The city has been crowned America's best bike city in recent years for making riding on two wheels through its streets a party.
9. Los Angeles
Transit score: 50
Public transit of the future: L.A. is notorious for its sprawl and glacial automobile traffic, but it is developing a number of features that give it real contender status as a city with transit alternatives. The city has invested significant sums into expanding its light rail and subway systems in recent years. It's also rezoning areas for greater population density and reshaping corridors to make them more bike- and pedestrian- friendly. As Slate reported in 2012, "It's no New York and never will be — Los Angeles was constructed in the era of mass automobile ownership, and its landscape will always reflect that — but it's turning into something more interesting, a 21st-century city that moves the idea of alternative transportation beyond nostalgia or Europhilia."
8. Baltimore
Transit score: 57
Free busing: Baltimore isn't an affluent city that can afford to offer its residents a rich array of public transit options, but it has some walkable neighborhoods. Each year, more than 4 million people use the Charm City Circulator, a popular bus service that shuttles people around town for free.
7. Seattle
Transit score: 57
An innovator in walkability: Seattle is downright competitive about walkable urbanism. The city is exploring new ways to make it easier for its residents to get around on foot, experimenting with redevelopment projects that plant mixed-income housing near streetcars, bikeways and pedestrian connectors. The Emerald City also hosts tech companies, like Amazon, that consciously design their massive campuses to be walkable. 
6. Chicago
Transit score: 65
Take the "L" anywhere: If you're willing to endure the weather, there's little need for a car in Chicago. The city ranks sixth in the nation for walkability, and there's a wide selection of public transportation options. The most iconic of those is the "L," short for "elevated," because large swaths of it run aboveground. The L is the third busiest light rail mass transit system, after New York and Washington, D.C.'s systems, and is particularly effective in getting people around the downtown area.
5. Philadelphia
Transit score: 67
Options galore: The Southeastern Pennsylvania Transportation Authority is the sixth largest public transportation system in the country. It oversees a network of regional rail, rapid transit trains, trolley lines and buses, including hybrids.
4. Washington, D.C.
Transit score: 70
A carless capital: Washington, D.C., has the unique advantage of being an exceptionally small city in both population and surface area, and thus hasn't faced the typical transit challenges of a metropolis. Its subway system is neat and efficient, it's easy to walk between the city's many historic landmarks, and its public bike program, Capital Bikeshare, is flourishing only a few years after its introduction.
3. Boston
Transit score: 75
Meander Boston on foot: While Boston can make a claim to "America's first subway," it's best known for being extremely walkable. Legend has it that Boston's picturesque and winding streets are actually built along cow paths; they don't line up along cardinal directions, so there isn't an easy way to orient yourself on any given street. While it can make it difficult to find your way north, it also makes for a more interesting walking experience than in many cities.
2. San Francisco
Transit score: 80
San Francisco treat: When in San Franscisco, walk, don't drive. Even with its steep hills, the city is widely considered one of of the most walkable in the nation. Many of the city's residents are able to stroll to their jobs, grocery stores, coffee ships, restaurants and nightlife with enviable ease. 
1. New York
Transit score: 81
The subway that never sleeps: Having a car in New York City isn't just unnecessary — it's foolish. You can walk from the northern tip of Manhattan to South Street Seaport, with a view of the Statue of Liberty, in just a few hours. But New York's subway is what's truly legendary about the experience of carlessness in the Big Apple. For a flat rate of $2.75, any city-goer can get dropped off at virtually any place in the city at any time of day or night, accompanied by a host of eccentric characters, and free music to boot.