In One Tweet, Jason Collins Nails the Ridiculousness of Indiana's Religious Freedom Bill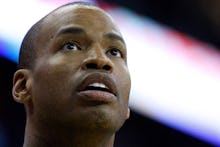 In early April, Jason Collins, the first openly gay player in the NBA, will travel to Indiana for the NCAA championship. But on Monday, the now-retired Collins, who will be on hand as an analyst for Yahoo News, spoke up about something that at first blush appears to have nothing to do with basketball: discrimination against the LGBT community.
"Is it going to be legal for someone to discriminate against me and others when we come to the Final Four?" Collins tweeted at Mike Pence, the governor of Indiana. 
He was referring to the state's so-called religious freedom bill, which successfully made it through the Indiana House of Representatives on Monday afternoon. Proponents claim the bill will protect individuals' religious beliefs from government interference; critics say it would pave the way for a business to use its religious beliefs as an excuse to deny service to same-sex couples. 
The measure still needs to pass through the Senate and the governor's office before becoming law, but those two obstacles are quickly dissipating. The author of the Senate version has said that he will defer to the House version, and Pence also indicated that he'll sign on the dotted line, according to the Indianapolis Star.
By calling this out in such a public way, Collins makes a key point. At first glance, basketball and same-sex discrimination don't seem to go hand in hand. But that's precisely the danger of a bill like Indiana's: Its effects have the potential to seep through any and every part of life for LGBT communities, even when it comes to something as innocuous as basketball.
Collins' tweet also makes a point to include "other" members of LGBT communities, who are arguably more at risk for discrimination than someone like him. He has the veneer of relative fame to protect him; others aren't as fortunate. It's a classic — and positive — case of a celebrity using his or her platform to bring attention to an issue that plagues a marginalized group.
He's also bringing attention to an issue sweeping the country. It's not just Indiana that's on the verge of sacrificing one freedom to accommodate another. 
As the Associated Press writes, "National gay rights [advocates] consider the Indiana bill among the most sweeping of several similar proposals introduced this year in more than a dozen states, as conservatives brace for a possible U.S. Supreme Court ruling legalizing same-sex marriage nationwide." 
States such as Georgia, Michigan, Colorado, Arizona and Mississippi have all proposed similar bills to Indiana's. While each individual bill is in its own stage, the momentum indicates that this is far from an isolated issue. The Supreme Court will tackle the same-sex marriage debate head on, but the states appear to be taking matters into their own hands, any way they can.
Collins may not be able to single-handedly change the minds of Indiana's governing bodies, but he can use and is using his platform to bring attention to a vital issue. Most fans will be stuck on the games during this year's March Madness, but with any luck, Collins' voice will make it through the scrum too.