40 Years After Women Went on Strike in Iceland, Here's What Gender Equality Looks Like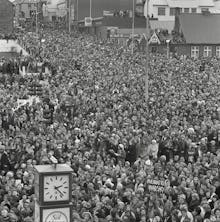 Imagine if 90% of American women walked off their jobs one day to protest the gender wage gap.
That's precisely what the women of Iceland did on Oct. 24, 1975. Now celebrated annually as "Women's Day Off," the holiday remembers the 25,000 women (more than one-tenth of the entire population at the time) who gathered in the capital of Reykjavik to protest economic inequality for women, from unequal pay in the workplace to women's uncompensated housework and child care at home. 
The protest created long-term changes in Iceland's society: The country recently topped the U.N.'s Global Gender Gap Report for the sixth year in a row. It's no wonder the Nation named Iceland "the most feminist place in the world."
But can history be repeated — by American women?
Money talks: Nearly 40 years ago, fed up with low pay and unfair treatment at work, the Red Stockings, a feminist group in Iceland, determined that the most powerful action was to strike. As Annadis Rudolfsdottir noted in a piece for the Guardian, the women realized that when money stops flowing, people notice. 
Leading up to the strike, many men saw the planned action as a "huge joke," according to the Montreal Gazette. But during the event, Iceland came almost to "a standstill," and men "began to get the point."
It worked: A year after the strike, in 1976, Iceland formed the Gender Equality Council and passed the Gender Equality Act, which outlawed gender discrimination in workplaces and schools. Five years later, in 1980, Iceland elected its first female president, Vigdis Finnbogadottir, who held office for four terms, until 1996.
In a separate article, Rudolfsdottir notes that as of 2014, Icelandic women's "participation in the labor market ... is the highest in the world," "childcare is heavily subsidized" and "each parent is entitled to three months of paid parental leave." The country also hosted its first gender equality conference for men in January, emphasizing that gender equality require men to work toward change too.
What might happen if women went on strike in America? While Iceland's strike ultimately did not close the gender wage gap, it did have noticeable sociopolitical effects. Given American women's increased presence in the labor force today, such a drastic action could call attention to the need to close the wage gap in our own country.
Of course, American women have gone on strike before. Known today as the Women's Strike for Equality, 20,000 women marched in the streets of New York City in 1970 to protest systemic economic inequality, as well as anti-abortion laws. But while the Supreme Court overturned anti-abortion laws with Roe v. Wade in 1973, economic equality, primarily in the form of closing the gender wage gap, has remained elusive for women.
"The economy would grind to a halt": Recent economic statistics suggest that a strike in 2015 would have greater consequences than the 1970 strike. That's because today, women "make up 47% of the labor force, compared to 38% in 1970," according to a 2014 White House report. 
If all American women went on strike together for one day, "the economy would grind to a halt," Justin Wolfers, senior fellow at the Peterson Institute for International Economics, told Mic. "Think about it: If 48% of the workforce walked off the job, it wouldn't be a recession, it would be a depression, likely much worse than the Great Depression."
"It's probably worse than that," he said, "because the men who turn up to work would also be unproductive without the coworkers they rely on to get their jobs done." Indeed, with women comprising nearly two-thirds of all minimum-wage jobs, we can't really expect the world to operate smoothly without more than half of this workforce.
"Think about it: If 48% of the workforce walked off the job, it wouldn't be a recession, it would be a depression, likely much worse than the Great Depression."
What's next?: To be fair, Iceland's women aren't finished, and that country's economic improvements were not met as quickly as its political ones. Thirty years after the original strike, in 2005, 50,000 Icelandic women went on strike again to explicitly protest the continued gender wage gap; women were estimated to have earned only 65.65% of the average wage for men. Today, the gap has narrowed but not disappeared, with women earning close to 80% of men's dollar.
Auður Styrkarsdottir, director of the Icelandic women's history archives, said going on strike is "a thing that Icelandic women do." As of last year, 88% of Icelandic women were in the workforce, suggesting that a future strike could prove even more effective than the first — that's more than 45% of the entire labor force, according to Iceland's Ministry of Welfare.
As the effects of the 1975 Icelandic strike have proven, money is power. When men fully realize the extent to which women facilitate economic growth and prosperity, they will stop and listen.