This Is the Most Underrated Album of the Millennium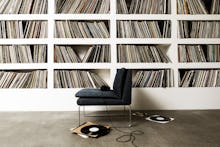 From the moment of its release in November 2008, Kanye West's 808s & Heartbreak was a hate magnet. "I don't think the fans will forgive him for this," 50 Cent said of the album, according to MTV. Respected publications such as Rolling Stone called it a "noble failure," while NME dubbed it "woe-is-me slush."
Despite its commercial success, the album's gushing emotions and electric warbles made it the laughingstock of the hip-hop world for a long time. But 808s & Heartbreak has aged tremendously well. A large portion of the hip-hop world now mirrors the singsong flows and confessional honesty of 808s. If you listen to any of Drake's recent smash hits, or even West's own revered "Only One," it's easy to see that the album was simply ahead of its time. It remains one of the most underrated records since Y2K came and went.
The sound. Kanye knew 808s would polarize his fan base. The album essentially tossed aside all the signature techniques that fans had come to love. It had no soul loops, no up-tempo attention-demanding beats, little of his tongue-in-cheek wordplay and basically no rapping. West replaced it all with simple mechanical drum patterns (the titular 808s) and Auto-Tune warbles reminiscent of T-Pain. He took these a step beyond the norm, adding electronic filters that turned his voice into more of a texture than articulated speech.
But these new features were tremendously evocative. The mechanized drums and fuzzed-out vocals create a captivating hollowness. Coupled with Kanye's stripped lyrical style, tracks like "Heartless" and "Bad News" evoke a true sense of loss, more so than they would had Kanye hewn to his typical sound.
The story. This calculated, morose meditation was the only album that Kanye could make at this point in his life. "It was just what was in my heart," the rapper told MTV Europe at the time. "The type of ideas that it was coming up with, the melodies that were in me — what was in me I couldn't stop."
In the years before the album's release, Kanye lost his mother, Donda West, whom he had immortalized in his music several times before, to complications from a cosmetic surgery. He also split from his fiancee, Alexis Phifer, after an 18-month engagement. West blamed himself in part for his mother's untimely end. "I feel like I moved to California, then my mom moved to California," West told the Guardian, "and she did stuff she wouldn't have done if we'd stayed in Chicago. If I'd never made it in the music business, it never would have happened."
Kanye's pain over these losses is palpable throughout the album. "Coldest Winter" specifically is dedicated to his late mother. "If spring can take the snow away / Can it melt away all of our mistakes?" he asks mournfully, answered only by an echo of the exact same question.
The next generation. Kanye's confessional lyrics opened the door for a new wave of rappers to lay bare their most personal and existential trials. The clearest example of this legacy is Toronto native Drake — a leader of hip-hop's new school and a quintessential embodiment of the emotionally in-tune rapper.
Drake's breakout mixtape, So Far Gone, dropped just a few months after 808s, and in an interview with MTV he called Kanye "the most influential person as far as a musician that I'd ever had in my life." Drake went as far as to sample part of 808s' "Say You Will" on his own "Say What's Real."
The number of artists now following Kanye's sonic and lyrical footprints is staggering. Rappers Future, Rich Homie Quan and Young Thug all consistently obscure the line between singing and rapping; verse and hook. Hints of Kanye's minimalist, funeral home pop can be heard throughout the motion-blurred soundscapes of The Weeknd and James Blake.
Kanye West's 808s & Heartbreak was a "humanizing moment for hip-hop," as Patrick Lyons aptly wrote at HotNewHipHop.com. It opened up hip-hop and made it acceptable for rappers to show vulnerability. Kanye took the brunt of the backlash, and held his own admirably. "[H]ip-hop used to be about being fearless, and now it's, like, all about being afraid," he told MTV Europe, "It used to be about standing out, now it's all about fitting in."
Now that 808s has completely redefined radio, it's worth going back another for another listen. At the time, it was too radical to satisfy most. But now it's time to redefine its legacy as a diamond in the slush.