One Quote Sums Up Everything Wrong With How We Talk About Diversity in Television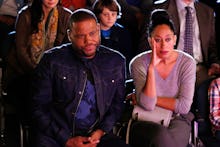 Everyone knows that TV casting is obviously a meritocracy, with roles only going to the best actors regardless of race, gender or the omnipresent temptation of nepotism. But Deadline's Nellie Andreeva has noticed a disturbing trend that threatens the very foundation of this once fair industry: More black and brown people on TV.
"The pendulum might have swung a bit too far in the other direction," she lamented in a recent article. "Instead of opening the field for actors of any race to compete for any role in a colorblind manner, there has been a significant number of parts designated as ethnic this year, making them off-limits for Caucasian actors."
That's right. In light of the success of series like Empire, black-ish, Fresh Off the Boat and How to Get Away With Murder — all of which feature racial minorities in lead roles — some networks are reportedly increasing the number of minority actors in their upcoming shows, often to as much as 50% of a series' cast.
This may sound like a good idea, but consider the downside: Such a change would inevitably mean fewer parts available for white people. Is there no justice in the world?
While the plight of the white TV actor is indeed tragic, racial minorities, not to mention women, have faced what can only be described as severe and persistent under-representation since television entered American homes. According to a report from UCLA's Ralph J. Bunche Center for African American Studies, racial minorities constituted just 6.5% of lead roles in scripted broadcast television shows in 2012-13, compared with 37.4% of the general population. And that was considered a good year.
Given such statistics, you might think a change was in order. But Andreeva's piece is peppered with horror stories that suggest otherwise — like the time two white actors were reportedly the top choices for an upcoming TV pilot until one got replaced by a person of color, because the studio figured there were enough shows with Caucasian lead actors. This blatantly unfair example of quota-based casting is almost as bad as the de facto quota that made almost everyone on TV white for the past half-century. (Andreeva must have missed that part.)
Also worth mentioning are the number of white cinematic classics, like Uncle Buck, that are being butchered for TV this season through the addition of black leads. Like, don't black people have enough shows already? 
According to Andreeva, they do. "That fraction of the TV audience might have reached its peak," she writes, citing BET, Tyler Perry, Scandal and three other programs in which black people have the gall to exist.
At the end of the day, bemoaning a slight increase in the number of racial minorities on TV ignores the importance, both logical and financial, of reflecting America's changing population on screen. It also ignores the fact that white dominance remains essentially unchallenged in spite of actor diversity; the executives and show-runners who make such decisions remain overwhelmingly white and male. Still, it's a step in the right direction. And don't worry, Nellie Andreeva: Even if they can't get this handful of upcoming TV roles, white people will be fine.