The People Freaking Out About Zayn Leaving One Direction Aren't Who You Think They Are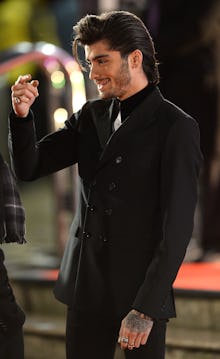 In the event you've missed the biggest music news this side of Beyoncé's surprise album, the Associated Press has you covered:
This is a dark day for teens — and rightfully so! As anyone who was once a fan of the Spice Girls pre-Ginger Spice's departure can tell you, watching the band you love lose one of its members is a hard thing to take. Young people are impressionable and invest a lot of emotion in their fandoms. It's easy to joke and dismiss hysteria over Zayn Malik leaving One Direction, but that does a disservice to teens' emotions.
However, you might be surprised to learn that many of the people freaking out the most on Twitter today are not, in fact, teens.
They are not teens at all.
 Many are grown men and women.
They're proving that members of a fandom aren't always exactly what you'd expect.
Even some brands are particularly emotional about Zayn!
Even we got a little emotional in the moment.
Today is a dark one for One Direction fans, but also an important one. This is a potent reminder that fans aren't always who you think they are, and that sometimes, even 20-somethings (and brands, of course) can be emotionally attached to a music group.
Luckily, fans of all ages can take heart: One Direction said in their announcement of Zayn's departure that the band will continue on as a four-piece. So for fans of Harry Styles, Louis Tomlinson, Liam Payne and Niall Horan, the journey isn't over. It's just taking on a new direction.