Sgt. Bowe Bergdahl Charged With Desertion and Misbehavior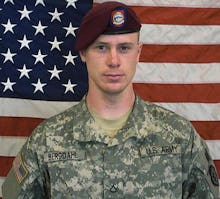 Sgt. Bowe Bergdahl, the former prisoner held captive for five years by Taliban forces, has been charged by U.S. military prosecutors with desertion and misbehavior before the enemy.
The news was first confirmed by Bergdahl's lawyer and U.S. officials, and the military officially confirmed the charges during a press conference in Fort Bragg, North Carolina on Wednesday 
The Washington Post reports that Bergdahl's charges were handed down on Tuesday. The accusation of desertion stems from an incident in 2009 in which Bergdahl allegedly left his post in Afghanistan's Paktika province, according to ABC News.
Bergdahl was rescued in May 2014 and returned to the United States that June. His return was brokered by the United States government in exchange for the release of five Taliban operatives who were being held in Guantanamo Bay. 
His release immediately drew criticism. Many high-level Republican officials called out the Obama administration for "negotiating with terrorists," and took issue with the fact that five mid- to high-level members of the Taliban were released in exchange for Bergdahl's freedom. 
The criticism came up again after his return, when the Pentagon confirmed that the soldier had indeed fled his base after becoming "disillusioned" with the U.S. campaign in Afghanistan, according to the Washington Post. 
At the time, President Barack Obama called Bergdahl's rescue "a good day," noting that he was "never forgotten" throughout his five years in captivity.
However, many on Twitter have taken Bergdahl's recent desertion charges as vindication of their opposition to the soldier exchange that brought him home.
It remains unclear to what degree Bergdahl will be punished if convicted. According to Bergdahl's lawyer, he is being charged under Article 85 and Article 99 of U.S. military law, both of which carry the death penalty. However, an execution hasn't been carried out by the military since 1961.
The next step in Bergdahl's case is a trial to determine his guilt, but the biggest takeaway from the case may lie more in a retrospective look at how the Obama administration handled the prisoner swap and whether it broke any laws. 
The Government Accountability Office asserted that Obama broke a "clear and unambiguous" law when he swapped five Taliban leaders in Guantanamo Bay for Bergdahl, according to the National Review, but the Obama administration rejected those claims. 
"We strongly disagree with GAO's conclusion, and we reject the implication that the administration acted unlawfully," White House spokesman Eric Schultz said, the Hill reported. "The president has the constitutional responsibility to protect the lives of Americans abroad, and specifically to protect U.S. service members." 
Though Bergdahl's desertion charge won't actually effect whether or not Obama broke the law in that swap, it will continue to add questions to the now-infamous Bergdahl, whose entire military career now seems shrouded in questions.