March Madness Has a $15 Million Problem That No One Is Talking About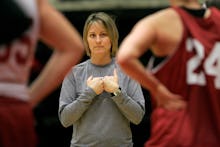 The gender pay gap hurts female workers in many industries, but one has been playing out in front of us all March long. 
Few institutions are more rigidly segregated by gender than athletics, and the disparity also harms coaches. Look no further than the men's and women's NCAA Final Four tournaments, where the head coaches of the four male teams earned a combined $19.3 million this year, and based on Mic's tabulation, the head coaches for the women's teams earned approximately $4.3 million combined. That's a $15 million difference, or less than a quarter of what the coaches of the male teams earn.
The big bucks seem to be for men's athletic programs, which is a disparity in and of itself, but women are shut out of coaching men's sports in the first place, which also puts them on an unequal playing field in terms of salary. Women hold just 3% of all Division I NCAA head coaching jobs for men's sports, while men act as head coach for 61% of women's Division I NCAA teams, according to The Institute for Diversity and Ethics in Sport's (TIDES) 2013 annual report. While 1,774 head coaching jobs had been added to college sports between 2000 and 2012, men filled almost 70% of those openings, ESPN reported. 
"The link between sports, sexism and the association of masculinity with sports is a very strong bond," Nancy Hogshead-Makar, a former Olympian and CEO of Champion Women, told Mic.
Why has it gotten worse? The number of female coaches overall may actually be declining. Women coached more than 90% of female college teams just after Title IX was enacted in 1972, which ensured that female student-athletes had the same opportunities to play sports as male student-athletes. Today women are head coaches to 40% of women's college teams, according to a University of Minnesota study. 
Athlete Ally executive director Hudson Taylor agreed. "From the moment that a person first steps on the playing field, we divide people along lines of gender," he told Mic. In a society that values maleness, this division "negatively impacts the way in which people view women and women's sports."
"You can't be what you cannot see." The lack of news coverage and broadcasting of women's sports betrays a higher social value placed on men's sports. For instance, the three major broadcast affiliates in Los Angeles did not have a single segment about women's basketball during March Madness 2009, but ran 60 stories on the men's side.
The shutout renders women largely invisible in college or professional team sports — an issue that extends to their coaches, which may discourage more women from entering this already imbalanced field. Former Portland State women's basketball coach Sherri Murrell told Mic she felt encouraged to become a coach because she "saw a lot of female coaches coaching" when she was younger. "You cannot be what you cannot see," she said, so the decline in visibility of female coaches cyclically leads women to not consider it "a viable career." 
Crossing gender lines: Gender segregation and sexism in sports leads to the belief "that male coaches can coach both men and women's sports and female coaches cannot," Taylor told Mic. Indeed, a significant barrier female coaches meet when trying to get jobs involves athletic directors' reluctance to consciously seek diversity in hiring, rather than relying on insular networks to hire coaching staff, according to Murrell.
Hogshead-Makar agreed. "As long as sports is associated with masculinity specifically, then men are going to be seen [as] better at [coaching]," she told Mic. "It's not even on people's radar that they need to start interviewing women for the position of coaching [male athletes]." This results, Taylor said, in female coaches facing "twice the competition but half the level of opportunities, because they're only being hired to coach other women's sports teams."
So far, no woman has ever been named the head of a Division I men's basketball team, while men coach the majority of women's Division I teams, according to one TIDES study. Furthermore, male coaches are paid significantly more than their female counterparts: U.S. Department of Education data shows that between 2003 and 2010, male coaches' salaries increased by 67%, while female coaches' salaries increased a mere 16% in the same time frame, according to the New York Times.
Job insecurity: In addition to this pay disparity, Taylor said job security for all coaches is "non-existent," as they are mostly judged on their win-loss record, a tenuous metric. But Hudson and Hogshead-Makar both affirmed that job security is especially precarious for female coaches. 
Murrell is familiar with this reality. Though she took her team to the NCAA Tournament in 2009-10 and was named the Big Sky Conference Coach of the Year for the 2010-11 season, Murrell — who had a 121-119 record over the eight seasons she coached — was fired in February.
She is not alone. Several female coaches have been recently fired for reasons, many have argued, that their male counterparts would not be. For example, University of Minnesota Duluth's Women's Hockey coach, Shannon Miller — who is known as one of the most successful female coaches in college sports — was fired last December while Duluth's men's hockey coach (who earned a higher salary yet won fewer games) kept his job.
But they're not going to take it anymore. Some female coaches are taking legal action to fight for a more equitable terrain for the entire community. Shannon Miller plans to file a lawsuit against the institution that fired her, the Duluth News Tribune reported, and several former players coached by Tracey Griesbaum, another recently fired female coach, filed a Title IX complaint arguing that they are unjustly being denied a quality coach in a way their male counterparts are not, according to Inside Higher Ed.
Hogshead-Makar told Mic that legal action is essential to creating equity in coaching, and said she plans to launch an online platform that will provide resources about Title IX and employment options for female coaches, with financial backing from the International Olympic Committee.
In the meantime, though, achieving gender equality in coaching is no small feat. Hogshead-Makar advised female coaches to figure out how to "build bridges and make allies with other coaches, with other people within the athletic department." Taylor noted that those in positions of power must also hold themselves accountable and push themselves to do better. 
"We have to actually be vocal," Taylor told Mic. "As long as we remain silent these problems and challenges will continue to exist."