Damning Video Shows What May Be the Most Violent Police Brutality Ever Recorded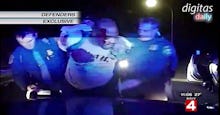 In what might be the worst case of police brutality ever caught on tape, newly released video footage appears to show police officers dragging Floyd Dent, a 57-year-old black man, out of his car, putting him into a chokehold, striking him 16 times in the head and tasering him while he was held down on the ground and being handcuffed.
The arrest occurred on Jan. 28 in Inkster, Michigan, but the footage was only just released Wednesday, Think Progress reports. 
In total, 10 officers arrived to the scene, though none stopped what appears on the police car footage to be an overly aggressive handling of Dent.
The incident: Police reports indicate Dent was pulled over for a traffic violation — the footage appears to show him running a stop sign — according to ClickonDetroit.com. The video then shows Dent opening the door of his Cadillac as two officers approach the car, guns drawn, before quickly pulling him out of the car and shoving him violently to the ground.
Dent was then put into a chokehold and beaten 16 times on his head, according to the police report, as the second officer attempted to handcuff him behind his back. Several more officers arrived on the scene, at which point Dent was struck with a stun gun three times. 
The Detroit Free Press notes police say Dent opened his car door and looked at the officers with the "blank stare as if on a form of narcotic" and then said, "I'll kill you." Conversely, according to Dent, the police yelled, "Get out of the car! I'll blow your head off!" There is no recorded audio available to confirm or deny either claim.
The incident seemed to have escalated extremely quickly and lasted only a few minutes. An uncut version of the video is also available, but ends before entire interaction in finished:
The aftermath: "He was beating me upside the head," Dent told reporters Wednesday at his attorney's office, reports the Free Press. "I was trying to protect my face with my right arm. I heard one of them say, 'Tase the M...F.'"
The Free Press also reports police initially charged Dent with "assault, resisting arrest, and possession of cocaine, insisting they found cocaine beneath the passenger seat of his Cadillac." Dent denied any drug possession, though that charge will still be considered in court on April 1. 
The other two charges have been dismissed, after an Inkster district court judge who viewed the video tape noted there was no evidence Dent did either of those things.
"I'm lucky to be living. I think they was trying to kill me, especially when they had choked me," Dent said, according to ClickedOnDetroit. "I mean, I was on my last breath. I kept telling the officer, 'Please, I can't breathe.'"
Why you should care: Though the violent police footage captured that night is damning enough, considering the string of similar videos depicting police brutality, as well as the deaths of multiple black Americans — including Michael Brown in Ferguson, Missouri, Eric Garner in New York and 12-year-old Tamir Rice in Cleveland — at the hands of white cops, it's impossible not to notice a trend. In the United States, black men are being targeted by white police officers. 
As the Department of Justice report released earlier this month on their civil rights investigation into the Ferguson Police Department demonstrated, there is a clear bias against black Americans in terms of how they are viewed by cops, how they are treated and how they are arrested. Perhaps, that wasn't enough evidence to convince some people there is a problem. But if this damning video showing the brutal beating of Floyd Dent isn't enough evidence, maybe nothing ever will be. 
h/t Think Progress