This Kickass Couple's Engagement Photos Show What Romance Really Looks Like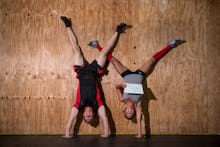 We're all familiar with the engagement photo clichés: sun streaming, ring flashing and whole lot of standing in a field gazing adoringly at one another.
Iliana and Joe of Ocoee, Florida, were looking for something a little more authentic — something that actually reflected their romance. That's how the couple came to shoot their engagement photos in their local CrossFit High Intensity gym.
Photographers Sean and Cricket Whitman, who run Cricket's Photography, were up to the challenge. "When I was talking to Joe about where they want to do the session he said, 'I know it's kinda crazy but Iliana mentioned maybe doing some photos in our CrossFit gym since we love working out there together," Cricket Whitman told Mic. 
"I loved the idea so much we spent half the session doing those photos." 
"It wasn't about showing off what they can do, but really about them as a couple," Whitman said.
Burpees and rope climbing couldn't be more Iliana and Joe; in fact, the two trainers spend most of their downtime at the gym. "On the days we have off together, this is what we look forward to doing together," bride-to-be Iliana told the Huffington Post.
That common interest is no small thing. While themed engagement shoots are nothing new, Iliana and Joe's photos are a genuine representation of a relationship built on a joint passion, something that can actually sustain a relationship through the years. A 2014 study published in Personal Relationships found that when couples spend time on mutually satisfying activities, they can improve their relationship quality and strengthen bonds. 
Plus, a common activity keeps up the feeling of constantly being on a first date. Extreme CrossFit sessions, when done by two people who are (admittedly) obsessed, might be one of the most romantic dates of all because they heighten the "we're in this together, I got you" mentality.
"They are one of those rare couples that you can 'see' their love," Whitman told Mic. "One of those couples that naturally just put their heads together in love and you find him sneaking kisses on her forehead."
In the case of Iliana and Joe, that kind of support — whether it's on the AbMat or at home — is what a lasting romance is really about. That's something any CrossFit hater would have a hard time disagreeing with.
h/t The Daily Dot