Co-Pilot Deliberately Crashed Germanwings Flight, French Officials Say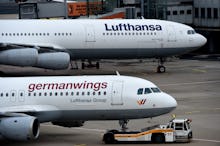 Chilling new details have emerged from the wreckage of Germanwings Flight 9525, which mysteriously crashed Tuesday over the French alps killing all 150 aboard. 
According to French officials, the co-pilot, 28-year-old Andreas Lubitz, deliberately crashed the Airbus A320. So far, his motivations are unknown, but based on how the flight went down in a controlled manner over eight minutes on a crystal-clear day, with no apparent mechanical malfunction, officials believe the co-pilot acted deliberately to bring the plane down.
German prosecutors are now alleging that Lubitz hid details of mental illness from GermanWings. 
"The co-pilot is alone at the controls," French prosecutor Brice Robin was quoted in the Telegraph. "He voluntarily refused to open the door of the cockpit to the pilot and voluntarily began the descent of the plane."
In a press conference Thursday morning, Lufthansa Airlines CEO Carsten Spohr explained that if a co-pilot faints in the cockpit, the other pilot can manually override the door lock to get back in. However, the pilot inside the cockpit could override this option and block this from happening, effectively locking everyone out. This may have been what happened, however, more details will be revealed once French officials complete their investigation. 
"This is the worst possible moment, the darkest chapter in the history of our airline," Spohr said. "This is a totally tragic case, we hope it's one of a kind and never happens again. Our hearts go out the relatives and friends of the victims."
Flightradar24, which tracks flight around the world found that the ships' autopilot was "manually changed from 38,000 to 100 ft at 09:30:55."
After recovering the flight's cockpit voice recording, investigators also concluded that one of the pilots had been locked out of the cockpit and had been desperately trying to re-enter just before the crash. If indeed the plane was brought down in a suicide mission, it would put to bed any remaining questions about why the pilot had been unable to re-enter.  
"The guy outside is knocking lightly on the door, and there is no answer," an investigator was quoted as saying in the New York Times. "And then he hits the door stronger, and no answer. There is never an answer. ... You can hear he is trying to smash the door down."
"We assume that he left the cockpit in order to use the restroom," Robin said in a press conference.
New questions. "We don't have psychological exams," Spohr was quoted in USA Today as saying.
Local media reports that Lubitz had been suffering from depression and that "torn up" sick notes were found in his home, the BBC reported. Local media also indicated that shortly after completing his flight training in 2009, Lubitz suffered a "serious depressive episode," and received treatment for 18 months.
A note on Lubitz's file at the German Aviatio Authority recommended that he undergo a "regular psychological assessment." It is unclear whether this ever happen.
A flight club where Lubitz had been a member posted to its website that "Andreas became a member of the club as a youth to fulfill his dream of flying," the Wall Street Journal reported.
Though rare in the annals of aviation history, there have been previous reports of pilots deliberately crashing their flights. 
In 1997, a SilkAir flight from Jakarta, Indonesia to Singapore suddenly plunged to earth from its cruising altitude of 35,000 feet, killing 104 people. Since the plane had been a U.S.-made Boeing 737-300, the National Transportation Safety Board (NTSB) investigated and found that, "the accident can be explained by intentional pilot action," ABC reported. 
A 1999 EgyptAir Flight from New York to Cairo that mysteriously crashed into the Atlantic Ocean has been a source of controversy for over 15 years. An NTSB suggestion that deliberate pilot action could be to blame has been heatedly denied by Egyptian aviation officials ever since. 
As is often the case with aviation catastrophes, answers leads to more questions. Alongside confirming this theory, answering why Andreas Lubitz brought down Flight 9525 will likely be the primary question the European airline officials seek to address in the coming days.
Updated: March 27, 9:23 a.m.