Rihanna Just Released a New Song — And It's a Total Banger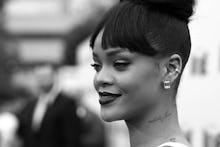 Update March 26, 2015 at 12:17pm: Rihanna released her track via Top 40 radio at 12pm today. You can now hear a full stream of the track here:
Rihanna told the world on Wednesday night that March 26 was going to be an important day. Everyone thought she would be releasing her new single, "Bitch Better Have My Money," which was the title hinted at in the hash tags and braille border of a promotional Instagram picture.
Sure enough, she did release new music on Thursday: roughly 20 seconds of it. And to access the clip, fans have to download Dubsmash, an app that's essentially Vine for sound. Here's the intro:
And the outro:
Popular belief: Many in the media were so excited about the new Rihanna, it seems they initially missed the fact that the song itself was not actually released.
Rihanna's ravenous fans, who have been waiting on a new album since 2012's Unapologetic, are not exactly pleased for the most part.
Dubsmash: In short, the Dubsmash app is the only party seriously benefitting from all this. The app allows users to record their own video to preset vocal clips, which can then be shared through the app or uploaded to other social networks. It's a hit in Germany and other European countries, and may be similarly popular on this side of the Atlantic soon. Unless, of course, they continue to trick people into believing they have full songs when, in fact, they only have 10-second snippets. Take note, Dubsmash.
Rihanna's album, currently titled R8, has no set release date. All we know is that it'll include her previous single "FourFiveSeconds," featuring Kanye West and Paul McCartney, and the album will be executive produced by Mr. West himself. It'll likely also have "Bitch Better Have My Money," but we won't know whether that's a good or bad thing until we hear the whole thing. Dubsmash better have my single.