One Disgusting Tweet Proves Misogyny in Sports Can't Be Ignored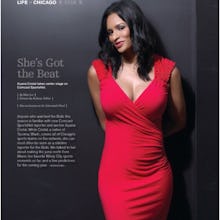 Facebook
Another woman in sports has landed in the crosshairs of her male colleagues' astonishingly misogynistic and repugnant behavior. 
On Wednesday night, two Chicago-area sports journalists, Matt Spiegel and Dan Bernstein, began a conversation on Twitter centered around Aiyana Cristal, a female anchor and reporter who works for CSN Chicago. Spiegel, co-host of the CBS Chicago radio show Spiegel & Goff, tweeted that Cristal "makes him uncomfortable." 
While it's perhaps not the most polite way to go about criticizing a colleague, it's certainly not the most offensive comment ever made on the Internet. But then Bernstein piped up. 
"I have no rooting interest in her work, but enjoy her giant boobs," he tweeted back.
Bernstein is a prominent figure in one of the biggest sports markets in the country. His radio show, Boers and Bernstein, is widely listened to. He has almost 50,000 followers on Twitter. Yet despite his large and very public platform, he thought that commenting on a fellow journalist's chest size was an appropriate thing to bring into a conversation about her professional skills.
The two weren't even finished: 
Other twitter users were understandably disgusted, and the backlash against Bernstein in particular was harsh. On Thursday morning, Spiegel sent out a series of tweets apologizing for the conversation, noting that although he wasn't responsible for the most egregious comments, his participation was reason enough to backtrack.
Bernstein has thus far stayed silent — and hasn't taken down his tweets — but the quickly deafening public outcry may force him to reconsider. (A request for comment from 670 The Score, Bernstein and Spiegel's radio station, was not immediately returned.) Cristal hasn't responded publicly to the conversation or responded to a request for comment from Mic.
Bernstein has been in hot water before. He previously came under fire for his comments about Ron Santo, a former Chicago Cubs player and double amputee, whom he said "stumps around." 
In December, following a game in which Chicago Bulls player Derrick Rose wore an "I Can't Breathe" shirt in reference to the death of black man Eric Garner at the hands of a police officer, Bernstein asked whether Rose "understands what he's doing" and questioned his ability to articulate himself.
According to the Chicago Tribune, "For those who regularly listen to Bernstein's afternoon show, the tweets [about Cristal] may not be surprising."
More proof. Life for women who work in sports, either as players or commentators, is undeniably difficult, and Bernstein and Spiegel's offensive conversation is simply the latest example. In this case, the two men are also higher up on the professional totem pole than Cristal, which shrouds their comments in yet another stunning layer of offensiveness.
The fact that one woman's colleagues thought it was acceptable to comment on her body in such an inappropriate way is cold, hard proof that we still have a long way to go. If anyone tries to argue otherwise, a simple look at Dan Bernstein's Twitter account should change their mind.