This Map Reveals Every State's Least Favorite Musician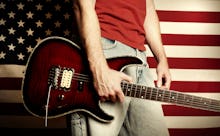 The results are in: The two most hated musical acts in the United States are both Canadian. Congratulations, Justin Bieber and Nickelback. You've earned it.
The results: Bieber is the most hated musician in the U.S., followed closely by Nickelback. The Canadian acts have certainly earned their fair shares of vitriol from the press and the public, so while it's not surprising that the two are hated, it is striking how considerably uniform the distaste is. With a few exceptions, the survey data shows Nickelback is most disliked in the West and Midwest, while the anti-Beliebers reside along the coasts and in the South.
Second-place act Nickelback ranked last among 23 states and the District of Columbia. The rock band is, oddly, phenomenally popular — it ranks among the most commercially successful musicians of the 2000s. Their first hit, 2001's "How You Remind Me," landed the top spot on Billboard's decade-end top Rock Songs chart, and helped Nickelback earn their place at No. 7 on Billboard's artists of the decade in 2009. Despite massive chart success, the band is a symbol of fans' "love to hate" mentality, which has in turn made the band even more successful. In "Genius: The Nickelback Story," Bloomberg wrote, "Hating Nickelback is a lifestyle choice."
"We've never really been a critics' darling or anything like that," frontman Chad Kroeger told Billboard. "The people speak. We sell a lot of records and fill a lot of arenas, and we don't hear many complaints." Clearly, they aren't listening too hard.
Justin Bieber: But the most-hated musician in all of America is Justin Bieber, named the worst by 27 states. Though he's only released two albums and a Christmas record, the 21-year-old former YouTube star has still managed to earn national dislike and massive success. Chalk the latter up to the Beliebers, his hardcore tweenaged fan base.
The real reason people hate Bieber is no doubt his infamous offstage antics: he allegedly assaulted his limo driver, was arrested for a DUI, repeatedly vandalized his neighbor's house, allegedly stole a woman's phone, made a racist joke on camera, reportedly once smoked so much weed on his private plane that the pilots had to wear oxygen masks, arrived two hours late to his show at the O2 arena and (slowly) drag raced a rented Lamborghini through the streets of Miami while high on Xanax.
Bieber, at least, is on an apology tour, hitting the Ellen Show to explain his behavior and using his upcoming Comedy Central Roast as an opportunity to apologize. He says, "I turned a lot of people off over the past few years, but I know I can still turn out good music and turn everything all around. I've lost some of my best qualities. For that, I am sorry. ... I'm looking forward to being someone who you guys can all look at and be proud of."
The roast premieres Sunday, but it was filmed weeks ago, so we already get to revel in juicy jokes like these: "They say that you roast the ones you love, but I don't like you at all, man. I'm just here because it's a real good opportunity for me," said MC and comedian Hannibal Buress. Shaquille O'Neal said, "Justin, as a father of six, you have to straighten up, son. Last year, you were ranked the fifth most hated person of all time. Kim Jong-Un didn't rank that low. And he uses your music to torture people." Plus this groaner from comedian Jeff Ross: "You are the King Joffrey of Pop."
Nickelback isn't making many public overtures to dissuade haters, but if this recent disco music video is any indication, they remain unrepentant.
Why we hate: Mic ran this survey using Google Consumer Surveys on March 9 and counted 25,734 total respondents aged 18-34. We surveyed roughly 500 people in each state as well as the District of Columbia. The survey gave anonymous users a blank text box to answer the question, "Who is your least favorite band or musician?" No musicians were listed as options; rather, users typed in whatever came to mind. All answers here, then, are majority consensus even though they don't always beat other responses by statistically significant margins.
The results of the survey are unprompted — America's overwhelming dislike of Nickelback and Bieber isn't just a thoughtless response. Mic ran a separate survey on March 3 of 1,500 respondents aged 18-34 from across the country, asking Americans to name their least favorite musician or band and then asking, "Why do you dislike that musician or band?" The overwhelming response was not a recent dirty deed or string of bad press, but rather a simple, "I don't know." 
Bieber and Nickelback preoccupy the American music consumer, but not because of their music. Nickelback isn't an especially awful band, sonically speaking, but they're on Americans' minds because of the overwhelming consensus that they suck. As for Bieber, barely 21 and with only three albums under his belt, the public persona is just too easy to hate. Above all else, the data proves that when Americans think about music, what they really think about is image. So while we don't often agree on much, our mutual hatred brings us together.