The Man Behind Michael Jackson Says This Indigenous Australian Is the Next Big Thing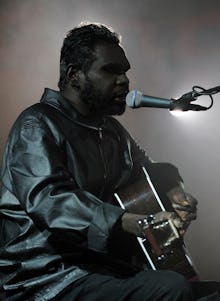 A few weeks ago, Quincy Jones, the producer that helped make Michael Jackson's Thriller the masterpiece it is, took to Facebook to make a new legend.
"This is one of the most unusual and emotional and musical voices that I've ever heard," Jones said in a video post. He directed viewers to a 2009 music video for "Wiyathul" by Geoffrey Gurrumul, a blind, aboriginal musician who sings mostly in his native language, Gumatj.
Though Gumatj is spoken by fewer than 300 people, Gurrumul's voice speaks universally. It's pure and unwavering, a transcendent sound. Yet this is far from his first big break. He's built an improbable career across years of performance, gathering a tremendous fan base of musical luminaries including Sting, Elton John and Björk. Now with support from Jones, Gurrumul is about to embark on his first U.S. tour. Geoffrey Gurrumul may be about to take his legacy to a whole new level.
Gurrumul's story. Geoffrey Gurrumul was born blind in a small village as a member of the Gumatj clan of the Yolngu people on Elcho Island, off the northern coast of Australia. When as a young boy Gurrumul began to exhibit true musical talent, his family told him: "It is your job to be a musician and sing our songs in both worlds," as Gurrumul's close collaborator Michael Hohnen shared in the Sydney Morning Herald.
Gurrumul speaks very little English and is "acutely shy." He gives few interviews and instead lets Hohnen and his manager, Mark Grose, speak for him in all his press. Where Gurrumul does feel comfortable is in the music and among his large tribal family.
"His totem is the saltwater crocodile. He's like the crocodile that spends most of its time in the water but sometimes comes out onto the land, to sunbake or whatever. That's a bit like our relationship," Hohnen explained to Dumbo Feather. "He's really comfortable when he's swimming around in the Yolngu world, but he's comfortable when he comes onto land, and that's my time with him."
Keeping a small tradition alive. When Mic contacted Gurrumul's team, Hohnen replied saying Gurrumul had gone back to his home island "to prepare for his U.S. tour." He said Gurrumul was excited and that it was a step towards his "ultimate dream," which "is to share his culture and songs and knowledge with the wider world. The knowledge and cultural system in his tribe is unique and is like nothing else. Recognition as a special culture and a first nation in Australia is important to his family."
His music tells these stories of his people, their history and their cosmology. "When they are growing up, a Yolngu person understands music as part of their makeup. As theirs is an oral culture, the Yolngu have to learn music in order to tell stories to understand who they are," Hohnen and Gurrumul wrote for the Sydney Morning Herald. "So, the songs Gurrumul sings are about his homeland and its history. They are constant iterations and reiterations of Yolngu identity."
Many of his songs are named after animals and creatures that inhabit his Northern Australian world like "Djarimirri (The Rainbow Serpent)." His debut album went triple platinum in Australia; his sophomore album, which also went platinum, prompted Rolling Stone to declare him "Australia's Most Important Voice." He won Best Artist two years running at the Indigenous Music Awards.
More than just music. Gurrumul is a very generous man. Most everything that he makes off of his music, he shares among his tribe. Some of his earnings have gone towards setting up The Gurrumul Yunupingu Foundation, which helps develop cultural programs in the indigenous world.
"The Foundation is for providing the opportunities (that Gurrumul has already achieved) to the many other Yolngu with dreams of getting opportunities," Gurrumul explained to Mic through Hohnen via email. "In a way me coming to America is exactly why the foundation started. Because I get this opportunity, but hardly anyone else from my community does."
Gurrumul's tour of the United States will take him all over the nation, from New York to Chicago to California. He hopes to have the opportunity to play for President Barack Obama again and to hear fellow blind musician Stevie Wonder perform. One of the things he tells Mic he most hopes to do is to play with The Roots and "just jam one of his songs with them," Hohnen told Mic. "The CD Gurrumul is very soft and acoustic, but Gurrumul said he loves upbeat music too, so he would choose one of his songs and play it with a backbeat live."
That would be a remarkable performance. But whether or not Geoffrey Gurrumul Yunupingu gets on The Tonight Show , his American moment approaches. It's well-deserved.