Every Celeb Ever Has Choice Words For Indiana Governor Who Signed Hateful Law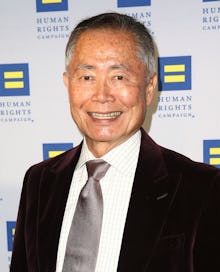 With the stroke of a pen, Indiana Gov. Mike Pence officially signed a "religious objections" bill into law Thursday, which, many have argued, effectively makes discrimination legal in the state of Indiana. As expected, LGBT people and their allies are not happy about it. 
The policy would block any new laws that would impede a person's religious beliefs once it takes effect in July. For example, if a religious baker didn't want to bake a cake for a same-sex couple's wedding, he or she wouldn't have to under this law. 
While this may seem blatantly discriminatory, Pence argued that the bill is "not about discrimination" but rather will be enacted "to help protect churches, Christian businesses and individuals from those who want to punish them because of their Biblical beliefs!"
As LGBT individuals and their allies have noted, Pence's goal of "protection" is limited, to say the least, considering the measure allows businesses to discriminate against gay customers or employees by refusing to serve or hire them. Sarah Warbelow, Human Rights Campaign legal director, called this law "dangerous," adding, "They've basically said, as long as your religion tells you to, it's OK to discriminate against people despite what the law says."
Indiana is not the first to enact such legislation, nor will it likely be the last. However, as ThinkProgress' Zack Ford noted, this particular law is stronger than other states' religious freedom laws because any individual can apply this protection, not just those dealing with a municipal transaction like county clerks who don't want to issue marriage licenses to same-sex couples. 
The good news is that those who support equality are hardly accepting this blow to their beliefs. Many prominent figures have taken to social media to make their displeasure known, including celebrities like Audra McDonald, Miley Cyrus and more. 
Gay actor and advocate George Takei elevated the outrage to action when he launched the hashtag #BoycottIndiana.
The outrage isn't restricted to celebrities, either. Organizers of the gaming convention Gen Con, the largest convention regularly held in Indianapolis, threatened to take the event elsewhere, for instance, and tech company Salesforce will now "dramatically reduce" their investment in operating in the state, according to the Indianapolis Star.
It appears that plenty of individuals are also heeding Takei's call and are employing the hashtag to make their disappointment in the legislation known.
Hopefully Pence — as well as lawmakers across the country considering similar bills — will take these messages of outrage seriously and recognize that legalizing discrimination is not only unacceptable, but a decision the public refuses to tacitly accept.