If This Banned Photo Makes You Uncomfortable, That's Exactly the Point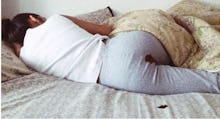 On social media, photos of women in their underwear are fine — so long as they're not menstruating. 
Poet-artist Rupi Kaur, in collaboration with her sister, Prabh Kaur, created a photo series called "period" as Rupi's final project for a visual rhetoric course. She then posted excerpts from the series to Tumblr and Instagram. While there was no problem on Tumblr, there was a different response from Instagram — there, the photo was taken down. Twice.
Rupi Kaur initially posted the photo to address the historical stigma and cultural shame attached to menstruation, as well as the hypocrisy of those who condone "the pornification," "sexualization" and "degradation" of women while getting "angered and bothered by this." 
"We menstruate and they see it as dirty. attention seeking. sick," she wrote in a caption to the original image.
It seemed that's exactly what Instagram saw when they deleted the photo, initially claiming the post violated "community guidelines."  As Rupi Kaur told followers: 
This caused an uproar on social media, with Instagram recanting and then reinstating the photo after apologizing for "wrongly" removing the image.
Give 'em bloody hell: The Kaurs aren't alone in raising a conversation around menstruation. Just two weeks ago a German street artist named Elonë began posting menstrual pads around her city with messages against sexism, sexual harassment and abuse. "Imagine if men were as disgusted with rape as they are with periods," one pad read. Like the Kaurs' series, Elonë's project was also intended to highlight the hypocrisy of the treatment of women's bodies in society: simultaneously sexualized and vilified. But women must not "be ashamed" of their bodies, Elonë told Mic via email, and "they should never feel bad about how they look."
With "period," the Kaur sisters give the world unfiltered photos illustrating the reality of menstruation. Women bleed, and accidents like the one depicted in the now-celebrated photo are common realities.
Painful, but not shameful: The project's ultimate message is that while periods may be painful or messy, they're nothing to be embarrassed about. Yet, "Historically, women were sent away from society when they had their periods, and in many cultures, it's still considered a dirty and shameful event," Rebecca Zamon wrote for Huffington Post Canada. This remains true in contemporary society — as evidenced by things like the use of blue "blood" in ads for feminine hygiene products. As I wrote in a previous piece, "girls are encouraged to keep their periods private, even though menstruation is a natural process."
Visibility is the most efficacious way to create a discourse around menstruation and period-shaming. If Kaur's photos make you uncomfortable, that's precisely their intention. Because in that discomfort you are encountering centuries of moral stigma placed on women and ensconced as societal norm or moral decorum.
Women aren't objects. We are real. And we bleed.