There's a Very Good Reason Millennials Are Still Living at Home with Their Parents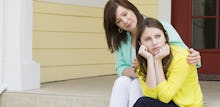 Millennials take a lot of heat.
Depending on who you ask, they're lazy, they're narcissistic, they're selfish, and they stubbornly refuse to move out and stay out of their parents' homes.
On that last score, however, a new study shows that living with mom and dad may be about more than refusing to grow up. According to a report by RealtyTrac, a real estate information company, home prices have outpaced wage growth in 76% of U.S. housing markets during the last two years of housing market recovery. Grimmer still, over the same period, nationwide home price growth has surpassed wage increases by a ratio of 13 to 1.
Sometimes, data can be complicated, but this is not one of those times.
"Home prices in many markets are catching up to where they should have been if we hadn't seen the sharp downturn," RealtyTrac Vice President Daren Blomquist told Mic. But Blomquist also speculated that "10 to 15%" of price growth reflected purchases "not connected to incomes." 
Some markets, like Seattle and San Francisco, are "trophy markets" and hubs for international investors looking for a safe place to stash some cash. In other cases, institutional investors, like hedge funds, have scooped up cheap property in less desirable locations, like Phoenix and Las Vegas, looking to make a buck.
What this means for millennials. Median income in the United States has been virtually stagnant for years, and the percentage of Americans in the middle class has declined in every state over the last decade.  
It might also not be a major surprise to learn that a disproportionate amount of the suffering has fallen on young people, who are routinely mired in tens of thousands of dollars in student loans and face diminished employment prospects. Amid Faustian choices of no work or very poorly compensated work, the new data elegantly demonstrates the uniquely challenging environment that millennials find themselves in.
Now, you might be thinking, sure, home prices have gone up. That's part of why people buy homes in the first place. Why don't these young miscreants just stop whining and rent something?
Rent. Well, unfortunately, rent prices have been more closely tracking home prices than wage growth. The same study that found across-the-board shrinkages in the middle class also found that the percentage of income going to home costs had increased in most states. That number is now often beyond 30% of individual income — the federal measure of housing affordability.
A study by the real estate website Zillow for the New York Times, found 90 cities where "median rent — not including utilities — was more than 30 percent of the median gross income." 
In 2013, a full 20% of Georgia rental households faced eviction as rising rents overtook tenants at a rapid clip. Even for previously stable members of the middle class, getting back on your feet after an eviction is difficult. Inevitable credit score damage all but guarantees higher borrowing costs for would-be renters on virtually any future bank loans.
"When a tenant goes though the process of being evicted, it's hell," Jimmy McMillan, founder of the "The Rent is Too Damn High" party and former presidential candidate, told Mic. "We have a problem in this country."
McMillan, who told Mic that he would run again in 2016, said that only voters had the power to change the system, and had some advice for millennials, historically also know for their lack of voting enthusiasm.
"Young people need to go to that poll."
In the end, focusing on millennials' problems "leaving the nest" misses the broader picture that it's becoming increasingly difficult for all Americans to get by. Millennials who have parents to live with are in many ways luckier than those who face eviction with nowhere to go. McMillan, who is himself facing eviction due to rising rent, vowed that he would run his presidential campaign "from a homeless shelter" if he had to.
The United States is the richest country in the world. Whether they're running for president or something more common, nobody should be forced to make their way in life from a homeless shelter or on the street. Out-of-control housing costs affect everyone, and it's a problem that we need to tackle together.