People Are Literally Dying to Vote in Nigeria's Historic Elections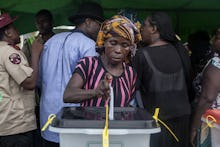 Millions of Nigerians headed to the polls on Saturday to cast votes in the country's first presidential election since April 2011. The race pits Nigeria's auspiciously named but often blundering president, Goodluck Jonathan, against repeat rival Muhammadu Buhari, with outside observers calling it a dead heat and the closest race since the country became a democracy in 1999.
After bursts of violence and technical malfunctions were reported early in the day, election officials opted to keep the polls open until Sunday in affected areas, according to the International Business Times. The voting, previously scheduled for Feb. 14, had been repeatedly delayed by threats of violence from the terrorist group Boko Haram. 
The Islamic extremist force, which achieved international infamy after kidnapping hundreds of schoolgirls in the northern part of the country in May 2014, condemned the election. In a rambling message posted online, its leader Abubakar Shekau pointedly declared, "This election will not be held even if we are dead. Even if we are not alive, Allah will never allow you to do it."
According to reporters on the ground, Boko Haram militants beheaded 23 people in the northeastern town of Buratai, then burned "half the village," Nigerian lawmaker Mohammed Adamu told the AFP. The group was also reportedly responsible for 14 more murders in northeastern Nigeria, mowing down people as they tried to vote.
A rocky road: Nigeria, like many African nations that emerged from European colonialism, has faced a rocky road in its democratic development. After achieving independence from the British in 1960, the country's fragile government rapidly descended into civil war. For the next three decades, the nation was then ruled by an almost uninterrupted series of military dictatorships. In 1999, Olusegun Obasanjo was elected president, and his People's Democratic Party has governed the country continuously since.
But continuity has not meant peace. Despite high security in many areas, one Nigerian official told the AFP, "We could hear the gunmen shouting: 'Didn't we warn you about staying away from [the] election?'"
Jonathan's challenger, Muhammadu Buhari, previously served as head of state after taking control of the country in a 1983 military coup. Buhari lost in their 2011 match-up, which set off days of rioting. Still, in a sign of progress, Buhari is engaging in his third straight election — he lost the first two — rather than attempting another coup.
Too big to fail: Nigeria is a country with a lot of potential. It has a 173.6 million people, of which more than 50% are under the age of 25. The nation has abundant natural resources with considerable deposits of iron ore, coal, limestone, lead and zinc. The country is also the largest oil producer on the continent and among the world's top five exporters. That natural wealth has helped Nigeria reduce its overall level of poverty in recent years.
It's no coincidence that Africa's most stable countries, like South Africa and Ghana, are democracies. Institutions that regularly hold leaders at least nominally accountable to the people generally ensure a greater a degree of transparency. For example, military dictators, who tend to develop addictions to foreign bank accounts, would find their ability to indulge such corruption considerably more difficult amid strong democratic checks and balances.
The world must offer its fullest support as Nigeria struggles, and occasionally stumbles, down its democratic path. The country is simply too important to be left behind. A failed state means Boko Haram would run wild, threatening not just the Nigerian people but large swaths of East Africa, setting off a wave of uncertainty and violence across the entire continent. In our connected, globalized world, that would be a failure for all of us.