The Plot of YA Novels If They Actually Reflected Real Teenagers' Lives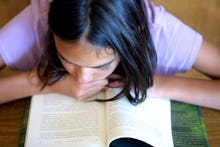 Fiction is powerful. In fact, studies show that reading literature fosters valuable qualities like empathy and social skills. Young adult fiction especially has the power to instill these values and shape the world views of future generations — and yet, it often fails to represent the realistic experiences of diverse teens and may even perpetuate negative standards. 
While many are fighting against this lack of representation, teen author John Hansen — who identifies as a feminist, queer and an ally — is addressing the representation of teenage life in a clever new Twitter hashtag, #VeryRealisticYA.
The conversation began with Hansen's observation that, despite being geared towards young adults, this genre generally doesn't reflect the reality of being a teenager. Hansen's observations quickly evolved into #VeryRealisticYA — a widespread exploration of the many sexist, heterosexist and overall problematic social norms young adult fiction often perpetuates. 
"It began largely as a loving joke about how different YA books would be were they extremely realistic, in that instead of saving the world the main character would probably just be scrolling through Twitter all day," Hansen told Mic in an email on Monday. But as the hashtag evolved, it began to highlight actual social issues coded into many YA plots, like:
The way in which YA often romanticizes unhealthy, inequitable relationships...
...and upholds heterosexist relationship norms and homophobia.
Not to mention puritanical ideas about sex and teen sexuality...
...and, of course, stereotypical gender roles, into which female characters are still routinely confined. 
In the spirit of the creative, quirky joy that is often at the heart of the best young adult novels, contributors also used the hashtag to generate plenty of plot lines that would better resonate with all young adults, no matter their background.
"Books transmit values," acclaimed author of children's and young adult fiction Walter Dean Myers wrote in a 2014 New York Times op-ed. "They explore our common humanity. What is the message when some children are not represented in those books?" Myers' observation is backed by fact: Studies show that representation in the media has an impact, both on making marginalized groups feel fully realized and on dominant groups recognizing their value.
Thankfully, there certainly are young adult fiction authors who recognize this, as evidenced by various markers of recognition (like diverse book lists), public declarations of support for diversity and even their participation in hashtags such as #VeryRealisticYA. "Many YA books deal in an honest way with the complexities of the world, whether it's through a contemporary or fantasy setting," Hansen told Mic, citing books such as Pointe by Brandy Colbert and Aristotle and Dante Discover the Secrets of the Universe by Benjamin Alire Sáenz as prime examples of texts in the genre incorporating more diverse characters and journeys. 
It's inspiring to see that even when mainstream mediums fail us, there are plenty of individuals, within the YA community and beyond, who are willing to raise their voices and create the change they wish to see —in an abundantly creative, thoroughly delightful way, no less. Let's hope that some of these Very Realistic plot lines are expanded beyond 140 characters and will grace our bookshelves in years to come.