'The Daily Show' Just Named the Next Jon Stewart, and You Probably Don't Know Him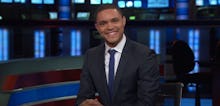 Trevor Noah isn't the biggest name in comedy — but he's about to become the most talked about comedian in the country. Noah, a 31-year old comedian from South Africa, is the new host of The Daily Show.
As reported by the New York Times Monday morning, Noah will succeed current host Jon Stewart. The news follows a weekend of rumors that he was in line for the job. Though Noah's selection will likely cue a chorus of confusion — just who is this new host? — it represents Comedy Central championing fresh perspective in its late night shows, which is always welcome.
How he got the job: Noah has appeared on The Daily Show three times since December, a relatively short try-out for the network's prized program. His first segment on the show was a satirical take on an African man visiting an underdeveloped country plagued by both Ebola and racial inequality: America.
According to the Times, Noah "gave no formal auditions for the job, outside of his performances on The Daily Show and elsewhere." Prior to his Daily Show stint, as reported by Deadline, he appeared on The Late Show with David Letterman in 2013 and The Tonight Show with Jay Leno the year before that.
A new identity for late-night: Noah has talked in his stand-up routine about his identity as a biracial man, his father being Swiss and his mother South African. This, he has joked, makes his very birth "a crime" — he was raised during apartheid, so his mixed-race parents' interactions were outlawed by the national government.
"This world was awkward for me growing up," he said in one routine when speaking of his mixed-race parents. "But they didn't care. They were fighting the system."
The current late-night lineup is particularly white right now, with new additions and transitions doing little to shake things up. The one exception was Comedy Central's choice of former Daily Show correspondent Larry Wilmore to take Stephen Colbert's vacated 11:30 p.m. slot. Joined byThe Nightly Show with Larry Wilmore, Noah represents an entirely non-white nightly lineup for the comedy network.
Passing the torch: Though a transition date has not been set yet, Stewart is expected to step down sometime later this year. 
"I'm thrilled for the show and for Trevor," Stewart told the Times in a statement. "He's a tremendous comic and talent that we've loved working with."
The transition will likely be a difficult one, if only because Stewart has been entrenched in his seat for 16 years. To pass the responsibility of The Daily Show to one so young seems like a gamble. Yet Stewart himself was only 36 when he took the seat; he quickly grew into the position that now is synonymous with his name.
Noah is a sign that Comedy Central is interested in taking risks with its late-night lineup. Though it was understandable when CBS gave David Letterman's spot to Stephen Colbert and when NBC gave Jay Leno's to Jimmy Fallon, it's refreshing to see a network take a risk on a new voice. 
Noah won't sound like anything else in late night, and he'll be speaking on one of the most-watched pedestals in the TV world. That is truly worth celebration.
March 30, 2015, 10:16 a.m.: This story has been updated.