Taylor Swift Just Played Backup for Madonna at the iHeartRadio Awards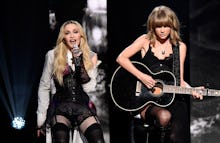 Madonna and Taylor Swift took the stage Sunday night at the iHeartRadio Awards and stormed their way through Madonna's new song, "Ghosttown." It's fitting that the person who played acoustic guitar while Madge sang on a national stage was Swift, whose Wikipedia page of awards is longer than many artists' main page. Swift may be the princess of pop, but Madonna is still the queen — clearly Swift knows that.
A strong comeback: Madonna has fallen on some tough times recently. It was a wise move to opt for a stripped-down performance at iHeartRadio after a snafu at the Brit Awards in late February left her body (and her ego, no doubt) bruised. At the Brit Awards, Madonna's matador cape nearly choked her while she performed "Living for Love"; the 56-year-old icon took a tumble, but brushed it off and kept performing like a pro. 
Shortly thereafter, her new album, Rebel Heart, lost the No. 1 spot on the Billboard 200 to the Empire soundtrack. And Rebel Heart didn't perform nearly as well in its first week as Madonna's last album, MDNA, which sold 359,000 units to Rebel Heart's 121,000. But Madonna is clearly undeterred.
She undoubtedly converted some rebel hearts on Sunday night at iHeartRadio with her breathtaking performance. And for her part, Swift didn't take much convincing:
Besides the "Ghosttown" performance, Sunday was a big night for Swift. Madonna presented her with the award for song of the year for "Shake It Off," and Swift also went home with the awards for artist of the year and best lyrics for "Blank Space." 
Swift and Madonna make a fierce duo. After their performance, Madonna's recent run of bad press will be forgotten faster than it started. And "Ghosttown," the best performance of the night, was a peek into pop royalty: Watching the two perform onstage was like watching the queen teach the princess how to wear the crown.