Jamie Foxx's Awards Show Joke About Bruce Jenner Was a Transphobic Mess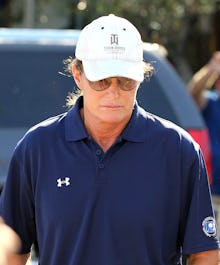 It wasn't all about the love at Sunday night's iHeart Radio Music Awards. 
During the show, host Jamie Foxx forced a weak joke about Bruce Jenner's alleged gender transition. 
"Bruce Jenner will be here doing some musical performances. He will be here doing a his and hers duet by himself," Foxx quipped. "Look, I'm just busting your balls while I still can."
That may sound like a nifty punchline, but the joke made a spectacle of a person who has nothing to do with pop music. Lampooning Jenner, based on a cheap genital joke or "confusion" about gender identity, was, at best, a worthless attempt at eliciting laughs. There's nothing cute or funny about transphobic humor. 
Trans lives aren't a punchline. Humor can function as a valuable teaching tool, but Foxx's joke completely missed the mark. The bump in trans visibility and representation (evidenced by things like actress Laverne Cox's mainstream success and the hit show Transparent winning big at the Golden Globes this year) should signal society's growing acceptance of trans people. Discussions about trans lives should come from a place of understanding and empathy, not a juvenile focus on what's between a person's legs. 
Unfortunately, popular culture has perpetuated some of the worst misconceptions of trans people.
A problematic form of curiosity. Jenner's rumored gender transition has become the source of morbid curiosity lately. Tabloid and entertainment publications routinely pick apart everything from Jenner's hairstyle and manicures to the clothes Jenner wears while running errands. In Touch Weekly even photoshopped Jenner's image to look more feminine, adding lipstick, blush, a scarf and even a blouse for a cover story titled, "Bruce's Story: My Life As a Woman." 
Despite the rumors, Jenner's gender identity has not yet been publicly addressed. And as Maureen Shaw wrote at Mic in January, "publicly and unrelentingly scrutinizing a person's gender identity not only doesn't make for good journalism, it doesn't make for good entertainment either. Whether featured in the paper of record or the aisles of your local supermarket, this behavior is cruel and socially irresponsible." 
Shaw continued to decry the harsh, public lampooning of Jenner's alleged transition, writing, "Gender identity, long low-hanging fruit for crass comedians and an unscrupulous press, is generally understood today as nobody's business, and certainly not entertainment. Why should Jenner's be any different?"
Indeed, it shouldn't be different. Regardless of what Jenner's gender identity may or may not be, Jenner's journey deserves our respect — not our ridicule.