Apple CEO Tim Cook Takes a Stand Against New Wave of Anti-LGBT Legislation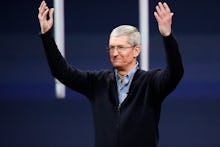 The struggle for marriage equality is likely entering its final stretch. This summer, the Supreme Court is expected to make a widely anticipated ruling on gay marriage that would settle its legality across the nation, and many gay marriage advocates are confident that their work is nearing its finish. 
But a new crop of "religious freedom" bills that allow for employers, business owners and landlords to discriminate against LGBT Americans in a number of states have revealed that a new war for LGBT equality is just beginning to heat up. And now business are diving into the trenches.
Apple CEO Tim Cook wrote an op-ed for the Washington Post arguing that the new wave of legislation represents an affront to the American character, and that Apple as a company is taking a stand against it:
"America's business community recognized a long time ago that discrimination, in all its forms, is bad for business. At Apple, we are in business to empower and enrich our customers' lives. We strive to do business in a way that is just and fair. That's why, on behalf of Apple, I'm standing up to oppose this new wave of legislation — wherever it emerges. I'm writing in the hopes that many more will join this movement. From North Carolina to Nevada, these bills under consideration truly will hurt jobs, growth and the economic vibrancy of parts of the country where a 21st-century economy was once welcomed with open arms.
Cook, who was the first CEO of a Fortune 500 company to identify openly as gay, pointed to the controversial law in Indiana as an example of the trouble to come. Under the new law, individuals, corporations, employers and small-business owners are able to shun Indiana's already-anemic nondiscrimination laws on the grounds of their personal religious beliefs. The law allows shop owners to use their religious views as a legal defense for refusing to serve gay customers. 
He also cites a similar religious freedom bill that the Arkansas Senate approved last week which LGBT advocates have slammed as a Trojan horse for a new regime of anti-gay discrimination.  
Indiana and Arkansas are just two battlefronts among scores across the nation. This map from the Human Rights Campaign shows the array of anti-LGBT measures currently being introduced in state legislatures across the U.S:
Apple's willingness to so brazenly back a major progressive concern is laudable. It also isn't particularly surprising. Silicon Valley's politics lean libertarian, and most of its major players are unabashed supporters  of marriage equality. America's tech scene sees gay rights as so axiomatic that they lobby for them in depoliticized language. Cook writes, "This isn't a political issue. It isn't a religious issue. This is about how we treat each other as human beings."
While Apple has taken the right side on the matter, it's also important to not overstate this as an act of enormous courage. Corporations tend to avoid embracing public positions on popular political issues lest their position alienate their customers and put a dent in their bottom line. The reality is that many corporations have sensed that gay rights have established such cultural momentum that it's not a high-risk act to champion it. Consider that even Wal-Mart, the corporate juggernaut with scant history of progressivism, has criticized the new wave of religious freedom legislation. 
Companies that are taking the right side on this should be given kudos, but these kinds of shows of support shouldn't make the public naive about what makes them willing to join the right causes.