Who Is Trevor Noah? Here Are the 8 Videos You Need to See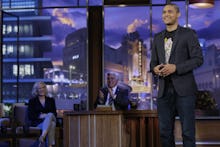 Trevor Noah is your new The Daily Show host, and that's a good thing. As a young, biracial comedian from South Africa, Noah represents a new voice for late night, and with Comedy Central's backing and support behind him, he'll likely be a hit.
That said, the question remains: Who is Trevor Noah? As with most comedians, the best way to know him is to check out his work. Here are eight videos you can watch right now to get to know the host-to-be.
He's one of few non-American late night hosts. 
In his few spots on The Daily Show, Noah's taken much the same tack John Oliver does on Last Week Tonight. He's appreciative enough of America to feel invested in its future, but not being from here, he can take a step back, scratch his head and wonder about some of the strange things we do. "You've got so many Dakotas!" he says in the clip above. "North, South, Fanning, Johnson. Leave some Dakota for the rest of us!"
He's half-South African, half-Swiss. 
He often jokingly refers to himself as being "born a crime" — it was even the name of one of his stand-up acts — because his mixed-race parents had him in South Africa during apartheid.
Thus, race plays a large part in his material.
Take, for example, his 2013 appearance on The Late Show with David Letterman, one of his two big pre-Daily Show late night spots (along with a 2012 The Tonight Show with Jay Leno bit). Talking about his first time in New York, he joked that Hispanic people mistook him for Latino. "I didn't know this, but apparently, I'm Mexican," he said.
He speaks eight languages.
In addition to English and German, a recent addition, he told W. Kamau Bell on the comedian's show Totally Biased that he speaks six other tongues, including Afrikaans and Zulu.
Those who'll miss Jon Stewart's weird voices needn't fear. 
Though we haven't heard Noah do anything like Stewart's Mrs. Doubtfire-esque "helloooooo!" the new host does play with his voice a lot in his acts. In the clip above, he speaks in a variety of other accents and tones, from the feminine to the foreign.
He doesn't like to warm up a lot before a performance.
In the clip above, Noah details his pre-routine preparation: Come straight from the street, then quickly walk backstage and onstage, all as quickly as possible. "That way, I've gone from my world to a social setting with my friends," he explains. "I want my audience to be my friends. That's when they'll get the best comedy. If they see me as a performer, they won't get the best show."
He's got a comedy special on Netflix Instant Streaming.
The special, from 2013, is just over an hour and features much of his signature humor.
If that's not enough, there's a documentary about him too. 
Released in 2011, the film is from when Noah had just been in comedy for two years. Yet even then, he had a similar sense of humor, plus a backup plan. "I'm no stranger to poverty," he says in the doc. "If ever this comedy thing doesn't work out, I've always got poverty to fall back on."