The Biggest Summer Music Festivals Are Cracking Down on Selfie Sticks and Narcissists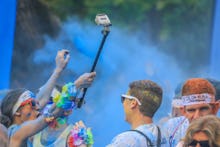 Narcissists will have to make due with severely limited arsenals at this summer's festival circuit. Two of the biggest festivals in the country, Coachella and Lollapalooza, just banned the infamous selfie stick from their grounds.
It's far from the most obnoxious item that festivals could do without ('Indian headdresses' anyone?). But perhaps it's a step in the right direction.
The larger movement to ban the stick. Coachella and Lollapalooza are the latest in a line of venues to ban selfie sticks. Several British music venues, including the O2 and Wembley Arena in London, have both banned selfie sticks due to "safety considerations" and the fact that they obstruct fans' views of the stage. The ban might also be meant to limit unauthorized taping of events, according to Rolling Stone.
One big oversight: It's unclear exactly what aspect of the sticks the festivals take issue with. Neither festival has responded to Mic's request for comment as of yet. However, if they're looking to discourage bad behavior, then they should probably take a harder look at one of the most fundamental features of festivals: the Native American headdress.
A growing trend. Headdresses have been go-to festival fashion for the last few years. Though many at these festivals claim progressive values, these misguided "fashion statements" make a mockery of many tribal traditions, which hold these headdresses to be extremely sacred. These headdress traditionally have to be "earned through exploit," as David Stirrup of the University of Kent once told the BBC, not bought online and hashtagged #feathers on Instagram.
A lot of people have taken notice. Native American acts and organizations have long criticized the use of headdresses for fashion, citing its diminutive tendencies. "It's creating a false idea of what it means to be Indigenous today," Aboriginal Canadian EDM act A Tribe Called Red told the Huffington Post in 2013. "It's robbing the First Nations of their nationhoods and nationality ... [and] making us all 'Indian' instead of recognizing me as an Anishnabe or Ojibway."
If these festivals can (rightfully) ban selfie sticks, then they can ban headdresses too. Last year, organizers of Bass Coast Festival outlawed them, citing their "respect [for] the dignity of aboriginal people." And Glastonbury similarly announced that in 2015 it would ban the sale of headdresses inside festival grounds for vendors "without prior authorization." Still, as Fashionista points out, visitors can still easily bring their own from home or attempt to attain that authorization through festival organizers.
Coachella's culture has long been one of the most visible perpetrators of the headdress practice, but the festival hasn't tried to clean up its act.
Without the selfie stick, Coachella and Lollapalooza's culture will be a little less obnoxious. But they're not offensive to an entire group of people the way headdresses are. Hopefully, festivals will soon realize how demeaning the practice is. Until then, we'll have to keep petitioning and dreaming of the day when all basic-ness is banned from the festival circuit. Selfie sticks are a good first step.
h/t Rolling Stone