8 Times Passion Pit Shattered the Stigma of Mental Illness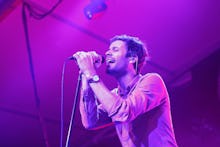 It's been nearly three years since Passion Pit released their most recent LP, Gossamer, an album that topped several best-of lists and peaked at No. 4 on the Billboard 200. But over the past few weeks, the electro-pop band from Massachusetts has been releasing amazing new music in anticipation of the release of their third full-length album, Kindred, on April 21.
Despite the band's success, they've faced many hurdles along the way. Lead singer and songwriter Michael Angelakos announced in a much-publicized interview with Pitchfork in July 2012 that he had bipolar disorder, and that he'd been diagnosed at 17. He attempted suicide one year after his diagnosis, and again later when he tried to jump out his then-girlfriend's apartment window. The day after discussing this in an interview for Pitchfork, he planned another suicide attempt. 
Angelakos sought help, though, and in 2015 joined forces with Bring Change 2 Mind, a nonprofit that brings awareness to mental illness through education. According to the organization, "Over the past 30 years, the rate of suicide among men has been three to four times that of women. Traditionally, however, men have shied away from talking about their feelings as it is viewed as negative and weak."
Passion Pit's lead singer, however, is anything but weak; he's an excellent spokesperson for mental illness through his music and public appearances. Angelakos lends an important voice in shedding the stigma surrounding mental illness. Here is a look at the moments when Passion Pit used their platform to shatter that stigma.
Angelakos shows it's alright to talk about mental illness.
On July 19, 2012, one day before Passion Pit's second LP was set to be released, Angelakos openly discussed his struggle with bipolar disease in an interview with Pitchfork. The interview detailed Angelakos' struggles, from mental breakdowns to suicide attempts to hospitalizations. He told the music magazine that the reason he'd kept his disease a secret for so long was because he didn't want to be known simply as "the bipolar artist." 
"I don't think people talk about mental illness a lot, but they need to know it's OK to talk about how they are feeling," Angelakos told Pitchfork. "People are afraid of telling the truth because they think it's going to hurt everyone around them. I've kept so much inside that I've literally lost it. I wish more people would get help when they feel like they need it — not just to look to medicine, but to the support of others."
"I'll Be Alright" reveals what it's really like to live with manic depression.
Angelakos told Pitchfork that the song "I'll Be Alright" on Gossamer was about a period in his life when he was manic and drank heavily. His girlfriend (and now wife) Kristy took the brunt of his disease. "I was really terrible to Kristy," Angelakos told Pitchfork. "I scared her a lot. I attempted to jump out the window of our apartment, and she tackled me to the floor." But Kristy stayed by his side, and helped him get treatment when she discovered how sick he was.
"What's interesting," Angelakos told Time Out Chicago, "is that it's always the story of the person going through mental illness, as opposed to the person that has to deal with it and keep you afloat when they've never had to deal with anything of this magnitude. ... She was happy I got through the album alive, and it's because of her that I did. It's less an album to her or for her. It's an album about that person who she is, the unsung hero."
Angelakos models exactly how to ignore the critics.
Some in the media accused Angelakos of announcing his bipolar disease as a publicity stunt just in time for Passion Pit's album release. "The publicity surrounding Gossamer's release made press-baiting fodder of his battle with bipolar disorder," wrote Creative Loafing. In a recent interview with Pitchfork on March 18, Angelakos reflected on the backlash: "His worst fears were confirmed as his private pain was subject to public scrutiny and cynics called it all a marketing ploy," Pitchfork wrote.
"At this point of my life, I feel like I can fight that fight by just shutting up and doing things," Angelakos told Pitchfork. "I think a lot of artists should probably heed that advice. Social media is essentially a battlefield and it's for publicity, and I'm not interested in that at all. I have so much that I want to make and do and I've got how many years left on this earth? I'm so lucky to get to make music for a living, so I should just be making stuff." 
"On My Way" brings attention to the supporters.
"On My Way," from Gossamer, was a song that Angelakos wrote as an apology to Kristy. But, he told Time Out Chicago, "As much as I apologize on the record, the real apology was me getting very, very serious help and treatment." 
"Everything I write is self-deprecating and self-effacing," Angelakos told Time Out Chicago. "It's a terrible feeling knowing that you almost seem sociopathic at certain points 'cause your brain is in this weird, manipulative mode and you're coming up with a thousand ideas. Or you're in a mixed state, which is where most people commit suicide because they're able to physically get up and do something. 
"It feels like possession. And you don't remember anything that's happened and you don't know why you said these hurtful things or went on these crazy outings and didn't come back for three days and then popped back in like nothing happened," he continued. 
Angelakos worked consciously to erase the stigma.
In April 2013, Angelakos was honored at the Erasing the Stigma Leadership Awards. According to Stereogum, writer Shawn Amos presented to Angelakos the Beatrice Stern Media Award, which honors people who use "the power of the media to put a positive face on mental illness." During the presentation, Amos said, "By shedding the weight of secrecy, Michael Angelakos showed millions of fans that getting treatment was nothing to be ashamed of and that honesty does not have to ruin one's career."
"I've gotten really good feedback," Angelakos told Rolling Stone about going public with his bipolar disease. "Obviously there are lots of people that will not ever understand and it makes it difficult. I didn't know how it was going to be received. I didn't even know how it was going to turn out. I didn't know what I was getting myself into. 
"It's a lot nicer to be able to talk about it. I've been lying about it. ... And then that article came out and I didn't have to say anything," he explained. "People don't understand that it's not just debilitating; it's all-encompassing. It's something you have to work on your entire life." 
"Lifted Up (1985)" gives hope to people struggling with mental illness.
This song, on the forthcoming Kindred, is a lovely tribute to Angelakos' wife, Kristy. He sings, "1985 was a good year / The sky broke apart and you appeared / Dropped from the heavens, they call me a dreamer." Along with the sweet sentiment, Angelakos also mentions his bipolar disorder in the lines, "Now the rain and the thunder are clashing / The sun's got a smile 'cross the face / Oh, but yeah I'm so tired." 
"Everything is autobiographical," Angelakos told Pitchfork about the new album. "Everything is honest. This record was written around the time when I was trying to figure out what constitutes family: who loves you, accepting love, giving love. ... I'm actively trying to improve all my relationships and my lifestyle and my way of working and interacting with people. Everything. And that's a really hard thing to talk about because it's embarrassing."
 "I really wanted to be happy and normalized and I was tired of people saying I was volatile. I'm not," he continued in that interview. "I'm a pretty normal person. I have problems like anyone else but I've worked so hard to be OK and I don't think that I gave myself enough credit for that."
Angelakos tears down the myth of the tortured artist.
When Gigwise asked Angelakos whether he felt pressure from the media after he revealed his disease, he replied that his level of fame gives him enough leverage to say what he wants. "There are a lot of people who don't talk about it, they don't treat it seriously and there is definitely a huge stigma but more so through media outlets — specifically television and film," he told Gigwise. Angelakos also pointed out a very important aspect of artistry and depression: Mental illness inhibits creativity, and shouldn't be romanticized. 
"We've come to recognize mental illness as this creative power for all these artists, when in fact it is actually the reason most artists stop working," he told Gigwise. "There is nothing in the slightest bit romantic about it in any way, shape or form. It is a pain and torment that no one should ever have to go through or think they have to go through because they create art for a living. There's a notion that you have to feel pain to create art."
Angelakos becomes the voice for #StrongerThanStigma.
On Jan. 20, Angelakos joined Bring Change 2 Mind and recorded a video for their PSA, #StrongerThanStigma. In the video, he says, "When people ask me what it's like to live with bipolar, you just have to adjust and figure out exactly how you're going to live your life the way you want to live it and achieve what you want to achieve. But you can only do that once you get help. ... Being as honest and transparent as you can be is actually really, really empowering, because it shows you have guts."