Connecticut Just Took a Stand Against Indiana's Anti-Gay Law Every State Should Follow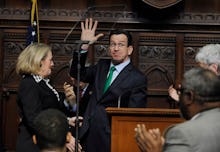 The backlash to Indiana's new "Religious Freedom Restoration Act," which allows businesses to refuse service to LGBT customers, is spreading. 
On Monday afternoon, an hour after he called the law "disturbing, disgraceful and outright discriminatory" at a press conference, Connecticut Gov. Dannel Malloy (D) signed an executive order restricting state-financed travel to Indiana.
"Somebody's gotta stand up to this kind of bigotry," Malloy said. "[Connecticut] led the way to end discrimination and we should continue to be a leader in speaking out against discrimination across the entirety of the nation," 
The governor also called on the NCAA to "reschedule" its 2016 women's college basketball Final Four, which is set, like this year's men's semi-finals and championship, to be hosted in Indianapolis. The announcement came 24 hours after Indiana Gov. Mike Pence refused to answer repeated questions about the potentially discriminatory effects of the law.
Malloy joins San Francisco Mayor Ed Lee and Seattle Mayor Ed Murray, both Democrats, in banning government employees from using taxpayer funds to pay for any potential visit to Indiana. 
Doubling down: Pence signed the controversial bill on Thursday, March 26, before appearing to backtrack on Saturday, telling the Indianapolis Star he was "in discussions with legislative leaders... to see if there's a way to clarify the intent of the law," which allows business owners to refuse service to customers on religious grounds. By Sunday, though, Pence had retrenched. He struck a defiant tone in an interview with ABC News, calling the media's coverage of the law "shameless" and saying that he had no intention of tweaking the legislation to protect LGBT citizens.
"We're not going to change the law," Pence told This Week host George Stephanopolous, "but if the general assembly in Indiana sends me a bill that adds a section that reiterates and amplifies and clarifies what the law really is and what it has been for the last 20 years, then I'm open to that."
Stephanopoulos pressed Pence, asking the governor if the new law means "that Christians who want to refuse service, or people of any other faith who want to refuse service to gays and lesbians, that it's now legal in the state of Indiana? 
"That's the simple yes or no question."
Pence, as he would on at least five more occasions, dodged the question, never offering a definitive answer. He did volunteer that supporters of the law had themselves been confronted with an "avalanche of intolerance."
Just the start? A number of large corporations and high-profile executives are threatening significant action against the state. In addition to protests inside Indiana, businesses like Yelp and Angie's List, which has scrapped a $40 million plan to expand its headquarters in Indianapolis, are threatening to move their business outside the state. The NCAA, which will host its men's college basketball Final Four in Indianapolis this week, said it is "especially concerned about how this legislation could affect our student-athletes and employees."
"Moving forward, we intend to closely examine the implications of this bill and how it might affect future events as well as our workforce," NCAA President Mark Emmert said in a statement released shortly after the bill was signed.
On Monday, Apple CEO Tim Cook, who came out as gay in October, wrote an op-ed in the Washington Post, saying "that discrimination, in all its forms, is bad for business. At Apple, we are in business to empower and enrich our customers' lives. We strive to do business in a way that is just and fair. That's why, on behalf of Apple, I'm standing up to oppose this new wave of legislation — wherever it emerges."
The former Star Trek actor and gay rights activist George Takei delivered a similar message early Monday, calling for a boycott "of Indiana by companies, conventions and tourists, not only to send a clear message to Indiana, but also to help stop the further erosion of our core civil values in other parts of this country."
How this ends: Support for LGBT rights, most notably on the question of marriage equality, has skyrocketed over the past two decades. This spring, the U.S. Supreme Court is expected to put an end to that debate and guarantee same-sex couple the right to marry in all 50 states. Pence, who had been ticketed by some as a potential Republican presidential contender, is now finding himself compared to Alabama's 1960s-era pro-segregationist governor, George Wallace. With business fleeing his state and the Republican Party in no apparent rush to get his back, expect Pence to roll back the law with just as little fanfare as he signed it.