These Two Sets of Crime Photos Represent A Serious Problem in News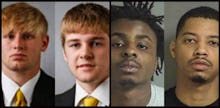 An image circulating on social media this week drew wide criticism for apparently illustrating the disparate treatment of alleged criminals from different racial backgrounds.
On March 23, sister sites TheGazette.com and KCRG.com published stories about two groups of men who were arrested for burglary — one was white, the other was black. Although the stories were written from the same newsroom and about the same type of crime, the story implicating a group of white male college wrestlers featured their official team portraits as its header image, while the report involving a group of black men featured their mugshots. 
A side-by-side comparison makes the contrast all the more jarring, and speaks to ongoing conversations about race, policing and racial bias in mainstream media crime coverage. 
Shortly after The Gazette shared the story of the wrestlers' arrest on Facebook, some readers questioned why the news outlets used mugshots for the black suspects but not for the white ones. They asked if the image choice was meant to deflect from the crimes committed by the white college students, and even raised the issue that such media portrayals may impact how potential jurors perceive the guilt or innocence of the suspects. 
The background: In a public statement, KCRG news director Adam Carros said his news organization's policy is to "use the best photographs of suspects available when reporting crimes, while always requesting and using mug shots when one is available." In this circumstance, the black suspects were arrested in a county where mugshots are immediately available to the public. However, Carros said, the white suspects were arrested in a county where news outlets must formally request mugshots of anyone booked at the jail, and officials didn't respond until after 8 p.m. on March 23.
Too little, too late: While the wrestling portraits were the best images available when the story was published, the original story wasn't updated with mugshots until 9:14 p.m. on March 30, one week later — and after backlash had mounted on social media. (One of the three suspects was issued a citation and not formally booked, so no mugshot was taken.)
Why differing depictions matter: Racial biases have been shown to impact how communities are policed, which news outlets may reinforce when they represent suspects of different races differently. A recent Media Matters for America report showed that in New York City alone, news stations grant disproportionate coverage to crimes involving black suspects, at rates higher than actual crime statistics broken down by race. 
Black suspects were, on average, arrested in 49% of New York's assault cases between 2010 and 2013, but they represented roughly 73% of news reports about assaults during the last five months of 2014, according to the report. (MMFA also cited research that produced similar results in Los Angeles and Pittsburgh.)
Despite any good intentions from media outlets, racial disparities in coverage could very well reinforce damaging stereotypes of black people as inherently criminal and violent. This trend was roundly challenged via the hashtag #IfTheyGunnedMeDown following the shooting death of Michael Brown last fall, when news reports used images of the 18-year-old that could present as incriminating before any formal review or trial.
Although the case in Iowa is unique, its criticism on social media and the news organization's response signal one important change in the media climate since last August: More people are paying close attention to how crime is covered along racial lines. As disparities are perceived, it's important to call for accountability in reporting, which has the power to influence how the public understands race and crime.