These Are the 13 Best Music Documentaries to Watch on Netflix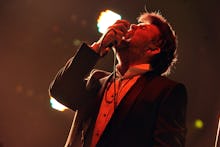 Netflix has a seemingly endless supply of TV shows, movies and documentaries, a diverse array of content that can quickly become overwhelming when you're deciding what to watch on a rainy Friday night. But less touted than, say, House of Cards, is Netflix's impressive collection of music documentaries, one that ranges from portraits of legendary artists like Jimi Hendrix to in-depth looks at the careers of contemporary musicians like LCD Soundsystem. 
Here are 13 music documentaries available in the U.S. well worth a night in — docs that make music come to life in a whole new way:
1. How to Grow a Band
How to Grow a Band follows Chris Thile and the band now better known as Punch Brothers for its first two years. During those formative years, the quintet endured the hardships faced not only by a new band trying to find its way but by a new band seeking to make a name for itself through acoustic music that defies any genre distinction. The documentary is essential viewing for Punch Brothers fans and aspiring musicians alike.
2. Shut Up and Play the Hits
When LCD Soundsystem's James Murphy decided to call it quits, fans of the cult-status indie dance-punk artist were devastated. Shut Up and Play the Hits follows Murphy for the 48 hours surrounding his final performance at New York's Madison Square Garden, and it's the bittersweet story of an artist struggling to say goodbye to his craft while excitedly looking toward the future. Most powerfully, it's a meditation on friendship and growing up a little later than most.
3. Big Star: Nothing Can Hurt Me
Big Star is the biggest band you've never heard of, and Nothing Can Hurt Me chronicles the Memphis band's roller coaster journey from relative obscurity to critical darlings. From the band's early beginnings to their inevitable influence on today's indie and rock musicians, the film is an intimate look at a group of musicians who, despite their best efforts, couldn't quite get that #1 Record.
4. The Punk Singer
Anyone interested in the punk or feminist movements should watch The Punk Singer, which tells the story of key Riot Grrrl artist Kathleen Hanna. Featuring both new and archival footage, the film shines an intimate light on Hanna's life while also providing a new angle on the history of punk music.
5. Twenty Feet from Stardom
Backup singers are often the least celebrated members of a band, but their contributions to live music are essential. Twenty Feet from Stardom pulls back the curtain on the singers who perform in front of thousands nightly but whose names may never be on a venue marquee.
6. Muscle Shoals
Few cities have had as strong an impact on American music as Muscle Shoals, and this documentary of the same name is a great introduction to the Alabama studio that birthed that one of a kind "Muscle Shoals sound." Featuring Bono, Gregg Allman, Aretha Franklin and a host of other legendary musicians, the documentary is an important historical document of one of America's musical landmarks.
7. 30 for 30: Straight Outta L.A. 
ESPN's beloved 30 for 30 documentary series tells some of the biggest stories in sports, and this feature film is a great example of how the worlds of sports and music so often intersect. Narrated by Ice Cube, Straight Outta L.A. looks at the rise of the Oakland Raiders and its connection to the early days of hip-hop, particularly through Cube's involvement with N.W.A.
8. Charles Bradley: Soul of America
Even if you've never heard of Charles Bradley, do yourself a favor and watch this film. Soul of America tells the story of the 66-year-old soul musician and his inexplicable rise to stardom at the age of 60. Come for the amazing music; stay for the even more amazing story. 
9. Ain't in It for My Health: A Film About Levon Helm
Making a comeback is never easy, even for legendary artists like Levon Helm. Watch as Helm, 25 years after releasing his last studio album, makes his way back into the music industry, all filmed with a level of intimacy never before seen from the man behind The Band. Helm is also the star, arguably, of the most famous music documentaries of all time, Martin Scorsese's The Last Waltz.
10. Jazz
No one does documentaries like Ken Burns, and Jazz is no exception. Whether you're a seasoned jazz aficionado or someone trying to get into the genre, this film provides a great deal of historical insight, archival footage and contemporary context, making it a work that's sure to endure as one of the greatest musical portraits ever to grace a screen.
11. Style Wars
Graffiti and hip-hop have always been inextricably linked. Style Wars, while primarily focused on the history of street art, shines a light on the early days of hip-hop and rap, particularly as the genre contributes to a larger culture of struggling street artists.
12. Jimi Hendrix: Hear My Train A Comin'
Part of PBS' American Masters series, the Emmy-winning Hear My Train A Comin' pulls together never before seen home and live footage of the greatest guitarist to ever live, compiled thoughtfully alongside interviews from admirers and contemporaries like Paul McCartney, Steve Winwood and longtime Hendrix drummer Mitch Mitchell. 
13. Good Ol' Freda
Secretary for the Beatles — sound like a dream job? For Freda Kelly, that dream was a lifelong reality. Learn about the history of one of the world's greatest band through her eyes, a unique perspective that even the most rabid Beatles fan should find fresh and enlightening.
April 6, 2015, 10:18 a.m.: This article has been updated.