These Are the 10 Most Brutal One-Liners About Justin Beiber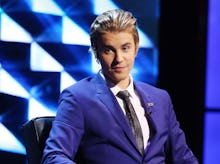 On Monday night, Comedy Central aired the roast of Justin Bieber, the most hated artist in America. Though putatively a comedic event, the beating the 21-year-old received in those two hours will take him the rest of his years to live down.
"Tonight we gonna do what his parents and the legal system should have done a long time ago. We're about to give this boy the ass whooping that he deserves," host Kevin Hart said in his introduction.
Over the five-year tantrum he's thrown, Bieber collected plenty of material for comics to work with. Since his Radio Disney heyday, Bieber has been caught on camera peeing in a restaurant mop bucket. He was accused of assaulting a Canadian limo driver and of stealing a fan's phone by shoving it down his pants. In 2013, he illegally purchased a baby monkey (every boy's dream), but then abandoned it in Germany when it was seized by customs. In January 2014, he drag raced a rented Lamborghini while high on Xanax — a charge for which he barely skirted jail time.
These all were moments which Shaquille O'Neal, Snoop Dogg, Martha Stewart, Hannibal Buress and the rest of the "B-list" celebrity panel hit on repeatedly, mercilessly, Monday night. Watch the full video here.
1. Ludacris will always think of Bieber as a baby.
As Ludacris claimed in his opening, he's known Bieber longer than anyone else in the room. They collaborated on the track "Baby," released in January 2010. Ludacris was even-handed about the hate though. He joked: "I remember one day I got this call saying, we want you to collaborate with this little dude who would do anything to get famous. And I said 'Great, I love Kevin Hart!'"
2. Natasha Leggero jabs at Selena Gomez.
That other Selena would be the famous Queen of Tejano music who was murdered by the president of her fan club after her family confronted him about embezzling the club's money. Perhaps we might suggest that having sex with Bieber isn't worse than being murdered?
3. O'Neal reminds Bieber of his place on the list of most hated men.
O'Neal gave one of the cleverest roasts of the night. To be fair, though, when he tried to make music he came up with Shaq Diesel, arguably a better candidate for torture.
4. Chris D'Elia is proud of Bieber's achievements.
D'Elia is Bieber's favorite comic. D'Elia actually brought him out on stage at one of his shows and did a mini-roast of him there. He turned it up a notch during the Comedy Central roast, noting that some of Bieber's screeching pop tunes have more dislikes on YouTube than beheading videos by the Islamic State group.
5. Jeffrey Ross lands the greatest music criticism of all time.
As almost every comedian was quick to point out, the only comedy gig that Ross can consistently land is being a panelist on Comedy Central Roast. He's performed at every one since Pamela Anderson in 2005. But there's a reason for that ...
6. Ross won't let him off easy.
... He's absolutely merciless.
7. Hannibal Buress gives it to Bieber straight.
Buress went in with the kind of humor he does best: brutal honesty. Some of his funniest lines were his driest: "I don't like your music, man, I'm not a big fan of it," he said, "I think it's bad, man. I don't like it." No unexpected metaphor, no punchline, but the crowd lost it anyway.
8. ... And adds more fuel to his Bill Cosby feud.
The saga continues — a saga Buress relaunched.
9. Ron Burgundy even showed up for a surprise visit.
Will Ferrell made a surprise appearance as Anchorman's Burgundy to mock-praise the child star. Because when Burgundy thinks you're doing OK, it's probably time to look in the mirror.
10. Bieber fires back with a one-liner of his own.
At the very end, Bieber got a chance to take his own shots at his roasters too. And before he launched into his lengthy, sappy-as-all-hell apology he did a pretty great job.
But then he apologized and lost all semblance of self-awareness:
Bieber closed his roast with a long, tedious apology, atoning for all of his past sins. "Someone close to me once said, 'It's how you rise from a fall that truly defines you as a man,'" he said. "I'm excited for that challenge. And I want to say thank you for taking this journey with me." It was nauseatingly heartfelt. And dispelled the illusion that this entire event was anything but a huge well-orchestrated publicity stunt to let Bieber seem sympathetic for a few hours.
Mercifully, those two hours are up.