Azealia Banks Just Released an Epic New Music Video For "Ice Princess"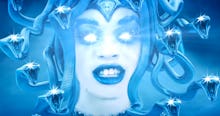 The rap game's most notorious troll released an ice-cold music video on Tuesday. Harlem-based hip-hop star Azealia Banks put out the video for "Ice Princess," a song off her debut studio album, Broke With Expensive Taste. In the video, Banks plays the Ice Princess, a Medusa-like woman riding a giant snake and leading her CGI army of robots against a volcano filled with rainbow lava. 
Yeah, it's that epic.
It's a captivating video and an even better song. Her flow is unbelievable: "You broke honey, and they call me Banks cause I can loan money / Colder than December, my diamonds on Anna Wintour / So that's fly ice in my life / I don't see no limits so I strive and I shine twice," Banks raps. Anyone who can fit Anna Wintour into a rhyme about winter automatically gets points.
But in true Banks form, the video wasn't without controversy from the start: During shooting, Banks Instagrammed a picture of her in the makeup chair wearing white makeup, with nothing but "#whiteface" beneath the photo.
The backlash was swift, and, knowing Banks, she no doubt orchestrated the event to be inflammatory. Her response to the outrage was equally as inflammatory as the original Instagram post:
Eventually, Banks chalked up the outrage to misogynoir, a term coined by queer black feminist scholar Moya Bailey, that refers to misogyny directed at black women. 
But it's perfectly aligned with Banks' knotty public persona. She is both a force for progressive values and a voice that often lurches into offensive territory. Her cover story for the April 2015 issue of Playboy had some smart and poignant, if not totally P.C., quotes about the rap game today:
"A lot of times when you're a black woman and you're proud, that's why people don't like you," Banks told Playboy. "In American society, the game is to be a nonthreatening black person. That's why you have Pharrell or Kendrick Lamar saying, 'How can we expect people to respect us if we don't respect ourselves?' He's playing that nonthreatening black man shit, and that gets all the white soccer moms going, 'We love him.' Even Kanye West plays a little bit of that game — 'Please accept me, white world.' Jay Z hasn't played any of those games, and that's what I like."
Racial politics aside, there's no denying that the video for "Ice Princess" kicks ass. Love her or hate her, Banks is a vital creative force.
h/t Pitchfork