Indianapolis' Republican Mayor Has a Brilliant Response to State's New Anti-Gay Law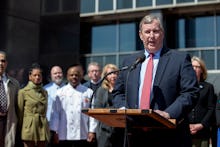 On Monday afternoon, Republican Indianapolis Mayor Greg Ballard took a strong stand against the state's controversial new Religious Freedom Restoration Act by criticizing the bill and signing an executive order that bans discrimination based on sexuality or gender identity.
"Our city thrives because we have welcomed and embraced diversity. And RFRA threatens what thousands of people have spent decades building," Ballard said in a press conference, according to the Indianapolis Star. "Discrimination is wrong. And I hope that message is being heard loud and clear at our Statehouse."
Shortly after his remarks in front of the State House, the City-County Council voted on its own resolution banning discrimination against LGBT people. The measure passed with a vote of 24-4. "Nine Republicans and all 15 Democrats voted in favor," the Star reported.
Ballard said of his executive order that "any entity receiving public funds from the city of Indianapolis must agree to abide by the terms of our city's human rights ordinance."
The statement was made in direct response to Indiana Governor Mike Pence's signing the RFRA, which "grants individuals and businesses legal grounds to defend themselves against claims of discrimination," according to the Washington Post. The bill has been fiercely criticized by major businesses, human rights activists, Democrats and even some GOP members.
Why is everyone so concerned? While Indiana is not the first state to have a law aimed at protecting "religious freedom" — in fact, 20 states already do — this one is different.
The Star explains most of these states concurrently "have statewide bans on discrimination based on sexual orientation, alongside other protected classes such as race, sex and religion." So, while people in the states can enjoy "religious freedom," they can not use that freedom to discriminate against LGBT people, who are protected by separate laws in these states.
Furthermore, the law is fundamentally different in two ways. The Atlantic notes Indiana's bill has "been carefully written to make clear that 1) businesses can use it against 2) civil-rights suits brought by individuals."
Mic's Zeeshan Aleem, spoke about the issue on HuffPost Live, noting, "the interesting thing about the Indiana law is it's not about the relationship between the individual and the government but between individuals." In other words, this law allows people to cite religious belief as a justification for discriminating against anyone else, rather than sue the government for discrimination against them.
It's these key differences which have prompted such a strong response. Major businesses have taken a stand, including Apple CEO Tim Cook and Angie's List, which canceled an expansion in Indianapolis.
NCAA president Mark Emmert is rethinking the location of the Final Four, currently scheduled to be played in Indiana. Emmert told ESPN, "We're going to have to sit down and make judgments about whether or not it changes the environment for us doing our work and for us holding events."
A political divide. Unsurprisingly, many Democrats have come out against the new bill. Hillary Clinton took to Twitter to convey her disappointment.
However, this has become a divisive issue in the Republican Party. Party members appear to be conflicted between alienating the majority and alienating the core. Key GOP players and presidential hopefuls like Jeb Bush, Bobby Jindal and Rick Perry have backed Pence on this bill, reaffirming the consensus that LGBT rights will be be one of the main hot-button issues in the upcoming general election.
Nevertheless, as Ballard's executive statement made clear, no matter how much you try to couch it in calls for "freedom," discrimination is wrong.