Zayn Malik Just Launched His Solo Career With an Actually Good Song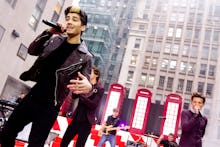 March 31, 2015, 5:55pm: This post has been updated.
Just a week after leaving One Direction, Zayn Malik has struck out on his own. Thanks to a tweet from producer Naughty Boy, Malik's debut solo track "I Won't Mind" is making the Internet rounds — and it's actually really good.
The "La La La" producer posted the track after a Twitter altercation with 1D's Louis Tomlinson where Naughty Boy at first seemed to suggest he'd rescued Malik from boy band hell (he later clarified he was talking about X Factor). It's unclear exactly what went down since Tomlinson deleted his tweets, but Naughty Boy's message came through crystal clear: "Let the music do the talking." (Naughty Boy has since deleted the original link, but it's been preserved by fans on YouTube.) With "I Won't Mind," Malik is telling us he's ready for a new phase of his career.
"I won't mind, you know I know you. You'll never be mine," Malik softly croons on "I Won't Mind," and it sounds like nothing he's done before. Even though One Direction has been focusing increasingly on quiet, guitar-based melodies, as on Midnight Memories' smash single "Story of My Life" or Four's Fleetwood Mac-flavored "Fireproof," the band never released anything as stripped-down or sincere as this.
"I Won't Mind" is like something straight from a coffeeshop singer down on his luck. There's an ache and a pain in his voice befitting a man who made the leap to alter his career path dramatically. This is his first expression of "the real me," as he put it when explaining his choice to leave One Direction, and he seems to be taking the opportunity to explore his recent anxiety. If this is what the "real" Malik sounds like, he made the right choice in leaving the band.
Leaving 1D was the healthy choice: It's allowing Malik to focus on finding himself. Music can be a powerful kind of medicine for those with mental health issues like stress and anxiety. Living a life and creating a product you're not proud of can be draining, and it's smart of Malik to take proactive steps toward his best mental state by changing his path and channeling his emotions into his work.
Though the now-four boys of One Direction are continuing on without him, Malik has plenty of potential paths to success, as Billboard noted. He could pull a Nick Jonas, who escaped boy band notoriety with his self-titled album and hit single "Jealous." There's something special about "I Won't Mind." If Malik can keep channeling his "real self" into his work, he has a great shot at forging his own path.