As the Era of 'Mad Men' Ends, Its Legacy Remains Singularly Influential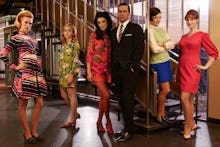 There aren't many stories left for Mad Men to tell. Production on set wrapped more than a year ago. Half of its final season already aired last year, and much of its cast has moved on to other projects. Just seven episodes remain before the tales of Don Draper, Peggy Olson and company will be complete.
In honor of Sunday's season premiere, the cast and crew have been attending different events to honor what AMC is calling "the end of an era." That might sound ridiculous for a show that consistently draws only 2 million to 3 million viewers per broadcast — that makes for a solid niche audience, not the kind of hit that gets a month of events dedicated to its ending. But Mad Men's strength has always been in its cultural influence. This is not just a show: It's a phenomenon, and one that changed TV for good.
On March 21, two weekends before Mad Men's return, Mic saw cast members Jon Hamm, Christina Hendricks, John Slattery and January Jones with series creator Matthew Weiner at New York's Lincoln Center to look back at the series. Each chose some of their favorite clips to share, from various seasons and with different characters. Through a selection that included season four's iconic episode "The Suitcase," season five's "Mystery Date" and season one's "Babylon," one message came through loud and clear: Mad Men is a good show.
That may seem ancillary at best, but it's actually quite vital: Critics and audiences alike got hooked on Mad Men early because even in its worst moments, it was quality programming.
Playing with its audience: After drawing in a loyal audience, Mad Men used that core viewership as a cushion to explore a bit beyond its comfort zone. Characters were pushed to their limits in hopes they would reveal fascinating new layers, which they consistently did. (Plot spoilers ahead for those who haven't watched Mad Men.) For example, Peggy Olson, a onetime secretary who would eventually become copy chief, endured a surprise pregnancy and explored the counterculture, not to mention the trials and tribulations of being Don Draper's protégé.
The writing team played with narrative perspective and different forms of storytelling, like in season four's "The Summer Man," which was the first and only to use a voiceover. In season six's "The Crash," an entire episode was seen through its characters drug-affected eyes. Bending form and reason so extensively would drive some audiences away. Yet the series's fanatical fandom stuck around no matter how much Weiner and his team played with them, even as the creator eschewed explanation and exposition for letting the audience figure things out for themselves.
"I enjoy being mystified," Weiner said at the Lincoln Center event when asked about his aversion to spoilers. "I enjoy being confused for a moment." That's why he's never been afraid to deny his audience a bit of rope at the beginning of each season, be it in status of a character or not even knowing what year it is. He's always trusted they'll figure it out.
Mad Men's playfulness only made viewers more passionate. They dug into every theory — who jumps out of the window a la the show's opening credits? Is Megan Draper going to die like Sharon Tate? — with gleeful abandon. 
Even critics went gaga over it. Attempts to fight Weiner on who the characters really were or what certain plot threads meant became commonplace — so much so that, in response to the Lincoln Center event's moderator saying he can't argue with Weiner about his own show, the creator shot back with a laugh, "That's never stopped anybody!" The deep readings would make you assume Mad Men was Lost's spiritual sequel instead of a relatively quiet period piece about an ad agency. But that's what Weiner and his writing team inspired.
The show never lost its humanity, though. This was not a story about stoking fan theories, after all: It was about its characters. Mad Men was lucky not only to have a core cast of six impressive performers (the four at the event plus Vincent Kartheiser and Elisabeth Moss), but to fill its ranks with indelible supporting players. The quality of the acting was strong across the board; you could tell Weiner and the other directors took the time to get every actor in sync with their character.
Of course, these weren't all likable characters doing good things. Don Draper, the series protagonist, is a drunk and an adulterer living under an assumed name. While that kind of antihero is commonplace on cable TV now, Don was part of a minority in 2007. Walter White was still yet to debut on Breaking Bad, and Tony Soprano was a notable exception. There may have been misanthropes, like Hugh Laurie's titular House, but Don was a new level of despicable at times.
Mad Men balanced its characters' bad behavior by keeping that humanity intact. Don isn't James Bond, oozing cool as he plays the bad boy. At multiple moments in the series' run, Don is at a personal nadir; every low somehow isn't actually the lowest. He is not an elegant drunk, nor does he escape personal punishment for his crimes. As Hamm put it to the Lincoln Center crowd, "The era of the lovable drunk is firmly in the rear-view mirror."
Other series have emulated the show's aesthetic, to varying levels of success. Though AMC has several successful shows now — after, it should be noted, Mad Men made the network more than just a classic movie channel — none of them really resemble its first hit that much. Breaking Bad had an antihero protagonist, but it had more of a fast-paced plot and a sexier premise, with a drug empire involved. The Walking Dead, AMC's biggest hit, is worlds apart from Mad Men both in tone and content. Network TV could never quite get there: Remember ABC's Pan Am or NBC's The Playboy Club? Unfortunately for them, merely setting a show in the '60s wasn't enough to conjure up Mad Men's magic.
Networks like Showtime and HBO that famously turned Weiner away when he pitched Mad Men have gotten closer. Shows like Masters of Sex and Boardwalk Empire get the period vibe right, but have never quite broken out in the same way. They're hits, but they're not monoliths. Yet all over cable and network, prestige drama has Mad Men's fingerprints all over the place.
Mad Men is singularly influential. Though the Breaking Bads of the world are massive successes in their own right, Mad Men inspired copycats and actually changed how people watch TV. What wouldn't a show give for a character's covers of an obscure French song to go viral? That's social power that can't be bought. It has to be earned, like Weiner and his team did, and then treated properly for eight years.
Hopefully the last seven episodes of the series are great. If the last six and a half seasons of the show are any indication, they will be. But it doesn't matter at this point. Mad Men has cemented its position in TV history as one of the greats. This is just the victory lap, and one that couldn't be more deserved.