31 Years After His Death, Marvin Gaye Is More Important Than Ever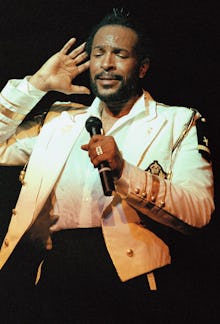 When Motown founder Berry Gordy heard Marvin Gaye's song, "What's Going On," Gordy declared it to be the worst song he had ever heard. He fought tooth and nail to keep Gaye's first solo album, What's Going On, from hitting the radio waves on Motown's watch. 
"They didn't like it, didn't understand it, and didn't trust it," Gaye said, according to the Rock and Roll Hall of Fame. "For months they wouldn't release it. My attitude had to be firm: 'Put it out or I'll never record for you again!'"
Gaye's attitude worked: In 1971, Motown reluctantly released the album, sure it would be a flop. But to Gordy's great surprise, the album became Gaye's first to reach the Billboard Top LPs chart, peaking at No. 6 and staying on the charts for almost a year. Now, it stands as one of the most historic albums of all time. It is the record that, better than anything else, reveals just how profound an impact Gaye made on pop music.
Hard beginnings: Wednesday is the 31st anniversary of Gaye's untimely death, and while he might be best known today as the guy who got ripped off by Robin Thicke, it's important to remember the profound impact he had on music and society. "Rarely has a musician had as great an impact on American culture as music legend Marvin Gaye," CBS noted. He was a trailblazer, leading the way as musicians became protestors and music became protest.
Gaye fought an uphill battle most of his life: As a child in Washington, D.C., his father beat him nearly every day. The two fought constantly, and it was actually his father who fatally shot a 44-year-old Gaye in 1984. As a respite from the pain, Gaye sang and played the piano from a young age.
In 1961, while touring the Midwest with a group called the Moonglows, Gaye's silky tenor caught the ear of none other than Berry Gordy, the founder of Motown. Gaye signed to Gordy's fresh new Detroit label and recorded a number of songs and duets that never quite caught. He hung around Motown nonetheless, and a decade passed before Gaye's breakthrough entirely self-produced, "What's Going On," hit the airwaves. The timing couldn't have been better, as Americans dealt with social unrest surrounding the Kent State massacre in 1970 — an event that deeply affected Gaye — his socially conscious music caught in a way most pop never does.
A powerful social consciousness. "In 1969 or 1970, I began to re-evaluate my whole concept of what I wanted my music to say," Gaye said, according to Rolling Stone. "I was very much affected by letters my brother was sending me from Vietnam, as well as the social situation here at home. I realized that I had to put my own fantasies behind me if I wanted to write songs that would reach the souls of people. I wanted them to take a look at what was happening in the world."
"What's Going On" was just one piece in Gaye's puzzle of social righteousness. The rest of the pieces were right there on the album for the burgeoning protester. "To have Marvin Gaye come out with a song that reinforced that necessity to be conscious, to be active, was a wonderful thing," Audley Smith, CEO of Detroit's Motown Museum, recently told NPR.
But every song on the record was politically incisive. "What's Happening Brother" was an anti-Vietnam War protest song written in the style of a letter to Gaye's brother, Frankie. "Are things really getting better, like the newspaper said? / What else is new my friend, besides what I read?" "Save the Children," meanwhile, was a touchingly desperate plea for action in a world headed for danger. "Inner City Blues (Make Me Wanna Holler)" tackled structural racism. And then there's "Mercy, Mercy Me," one of the most poignant songs of a rare genre: environmental music. It's a hit song about radiation, oil and overcrowding; a prophetic warning. It's the sort of thing only a genius could pull off.
This is the record that made his legacy. Musically, What's Going On was a resounding success that set a new precedent for popular political music. "Gaye has designed his album as one many-faceted statement on conditions in the world today, made nearly seamless by careful transitions between the cuts," Rolling Stone wrote in its original 1971 review. He showed that all these issues are related — they're tied to one another, they're tied to each of us, and they're tied to pop music.
This is Gaye's and his album's most important legacy: a template for modern popular protest music. Some of the best protest artists today — D'Angelo, Kendrick Lamar, Alicia Keys, John Legend, Common, Lauryn Hill — owe enormous debt to Gaye. "It was more than just a piece of music," Legend said when he performed the entire What's Going On album at the Hollywood Bowl in 2014. "It was a landmark of social commentary."
The protest song itself is making a resurgence in recent music. After the tragic deaths of Michael Brown, Eric Garner, Trayvon Martin and a number of young black men, movements like #BlackLivesMatter and #HandsUpDontShoot have inspired a new generation of activism-minded songwriters. It's more important now than ever to remember the legacy of protest music that Gaye left to the world. Music is equally as adept as a picket line in inspiring social change.