Mic Hires New Editor to Help Explain Millennials to Their Grandparents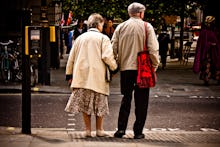 When Life Magazine shuttered in 2007, my 45-year career there came to an untimely end. So of course I proudly accepted when Mic came calling with its offer to join the staff.
I walked into my first editorial staff meeting this morning and realized that I'm 50 years older than anyone here. Oh well, YOLO, as someone just said to me (sarcastically?) in Mic's unisex bathroom (which I think is so fun!).
I'll be writing about millennial culture and explaining it to my generation, and also covering issues important to seniors. I have a lot of story ideas — which of these should I do first?
My Personal Favorite
Connections.Mic
Science.Mic
Music.Mic
Identities.Mic
News.Mic
And..
Which should I do first?? Tell me on my Facebook.