What the Hell Happened to Lauryn Hill?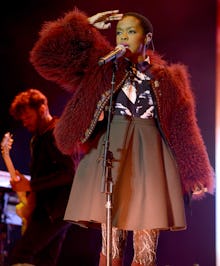 Lauryn Hill became an immortal part of American musical history on March 25. The Library of Congress preserved her one and only masterpiece, The Miseducation of Lauryn Hill, as an invaluable piece of American history. Announcing their choice, the library deemed the 1998 album a "breakthrough recording that fuses soul, rhythm and blues, rap and reggae." But it is so much more.
Miseducation is one of the most serenely beautiful, passionate and honest hip-hop records ever recorded. Deeply personal, masterfully arranged, it was the first hip-hop album to win album of the year at the Grammys. It helped define the culture while introducing it to a much larger audience. It's also the only solo studio record Hill has recorded. But since she has all but disappeared. Rumors have swirled during her absence, but more recently she's started producing new music again. Hill is currently working on an album under contract with Sony Worldwide Entertainment. But after all she's been through since Miseducation, what we will hear may be a different Hill than the one we're used to — a darker, more political songwriter.
The weight of success. Few saw the earth-shattering success of Miseducation coming, and when it hit, it affected Hill deeply. She all but evaporated from the public eye. Rumors swirled in her absence that she was a racist, that she was in a cult, that she was losing her mind. Through it all she offered vague answers to help explain where she went and why she left us. Though her behavior became increasingly erratic over the years following her success, two things have always been clear: She hasn't completely lost it, and she will return. 
She had only recently left her previous group, the Fugees, simultaneously breaking off her affair with the group's lead singer, Wyclef Jean. Recording Miseducation was a process of gaining perspective over all the "huge emotional and spiritual battle" taking place in her life, she told the Academy of Achievement in 2000. "But it was like, once I was delivered from that situation, and once I got the perspective — was able to look back at heartache, and look back at pain and disappointment — for some reason it all was so clear ... The songs started to create themselves."
Listeners responded to the emotional honesty. The album set new first-week sales records and two new Grammy records when she earned 10 nominations and five awards at the 1999 Grammys. Her album drew praise from artists and critics across the board — Adele, Amy Winehouse, Drake and Beyoncé have all cited Hill as a major influence on their music. "Churches were substituting 'God' in the lyrics [for the song "Nothing Even Matters"]," D'Angelo told Rolling Stone in 2008. "Whenever they make a gospel version from a secular song, that's significant." 
But success became a prison. "She couldn't go to the grocery store without makeup, and I think that had an adverse effect on her," Jayson Jackson, Hill's manager until February 2001, told Rolling Stone. "After all that beauty, she hurt a lot of people that loved her because she got hurt."
Hill was hit with a major lawsuit in November 1998, just months after the album's release when a team of musicians who called themselves New Ark who helped her write and record Miseducation claimed they deserved additional credits on 13 out of the record's 14 songs. They fought a long two-year battle that Hill reportedly settled for $5 million just to see the turmoil end.
After this, Hill became increasingly disillusioned, feeling "trapped" by her fame. "The whole concept of success, to me, is a little bit warped, because what are you being successful at in your house trapped? That's not successfully living," she told the Academy of Achievement in 2000. "My concept of successful living is escaping the matrix, as we've talked about."
Her public statements only became more erratic and unpredictable from then on. When she released her next record, an all acoustic, live album MTV Unplugged No 2.0 it was filled with statements about her personal and artistic struggles. Rolling Stone panned it as a "public breakdown."
Silence, and then prison. Hill spent the next decade in self-imposed exile, "insulat[ing] my family from the climate of hostility, false entitlement, manipulation, racial prejudice, sexism and ageism that I was surrounded by," as she put it in a 2013 Tumblr post.
She gave a rare NPR interview in 2010, saying she had started to edge back towards music, sharing that her next record would feature even more singing. Before that record could begin, however, she was charged with failing to pay taxes on $1.6 million she earned from 2005 to 2007. She pleaded guilty in June 2012, and spent three months in a minimum security prison in Connecticut. 
The statements she released during this tax evasion period are filled with venom against the "media protected military industrial complex" and the IRS and institutional racism.  These meditations found their way into her music when she started to record again. On the eve of her release from prison she dropped "Consumerism," a four-minute blitzkrieg of rhymes that form a monolithic slab of political critique. "Messages like these," Hill wrote in a statement. "I imagine find their audience, or their audience finds them, like water seeking its level."
A new political sound. She's released a handful of similar tracks, including "Neurotic Society," a political rap over dissonant and percussive torrent of sound. After the news Ferguson broke in August 2014, she re-shared her 2012-penned track "Black Rage," saying, "Strange, the course of things. Peace for MO."
Source: Soundcloud
When she first shared the track in 2012, she asserted, "As artists, we have an opportunity to help the public evolve, raise consciousness and awareness, teach, heal, enlighten and inspire in ways the democratic process may not be able to touch. So we keep it moving." It seems to have become her new artistic mission. 
Hill's recent music has little of the same serenely beautiful qualities that made Miseducation the rapturous listen it is. But she's already nailed that sound; she's got to keep moving. Her new music is dark, challenging, often angry. But it feels as insightful and vital as it was in 1998. No one knows when her next album will drop, but whenever it does, it will showcase a radical new Lauryn Hill. And it will likely do what all her music has done: Expand our culture into entirely new territories. One thing is for sure, though — the Lauryn Hill of now is not the same artist who made Miseducation. That might be a good thing.