Congratulations on Being Accepted to College! You're Going to Be in Debt Forever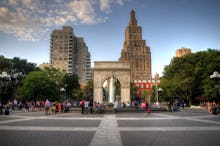 Attending America's "dream school" is a financial nightmare.
New York University, routinely described by American high schoolers and their parents as one of their top "dream schools," is one of the most popular application choices for aspiring college students. According to the university's admissions department, 60,322 people applied for admission to NYU's Class of 2019, a 15% increase over last year's and the largest number of applicants for any private university in the United States.
The school's offerings are undeniably enticing: a world-class education, a free-roaming campus in the heart of America's greatest city, a diverse student body, the chance to rub elbows with celebrities (until they drop out). NYU is so red hot, it even has its own fanfiction.
But is the chance to take Quantitative Reasoning with a former child star and sing "La Vie Bohème" on St. Mark's Place worth the stratospheric price tag? According to NYU's Office of Financial Aid, one year of attendance will cost the average undergraduate $70,974 (roughly $66,000 of that is in "direct expenses" like tuition, room and board, and fees, with the remainder coming from anticipated "indirect expenses" like books and transportation).
To put that in perspective, an American family earning the median household income would have to work for nearly five and a half years to pay for an undergraduate degree at NYU — and that's assuming the household in question doesn't frivolously spend any of that income on things like housing or food. NYU has even resorted to e-mailing its underpaid staff in order to raise money to defray the crippling cost of attending the school. Perhaps unsurprisingly, NYU's financial aid perennially appears at or near the top of Princeton Review's "Worst" list.
Not everyone's taking the increase lying down. The news of an NYU tuition hike came as a surprise to Early Decision candidates who had already accepted a spot at the university before the new costs were announced. One of those candidates, Nia Mirza, a 19-year-old woman from Pakistan, started a petition on Change.org demanding demanding that NYU lower its tuition and cost of attendance. It has already been signed by more than 3,800 people.
As Mirza writes in the petition, "[The cost of attendance increase] happened when Early Decision students had taken the decision to enroll and withdrawn applications from other schools, as the decision was binding. People who planned their budget according to the previously stated costs ... are in a serious problem. They know they have to go to NYU by hook or by crook because they have no other option."
According to Mirza, the criticism of NYU's move isn't motivated by bitterness, but by loyalty to the school. "It is my love for NYU that triggered me to start the petition," she told Mic. "Otherwise I would just have given up and applied elsewhere."
Mirza, who plans to use her NYU education to help reform Pakistan's health care system, was immediately drawn to the school when she began her search for top-tier American universities. "I thought it was a perfect match right away, and my acceptance bespeaks they thought the same," she said.
Although she has been given a partial scholarship and plans to attend NYU regardless of the increases, Mirza says her petition is about more than her own struggle to afford the cost of an NYU education. "This is not about me. It never was. An institution that I have loved for ages and wanted to become a part of was doing something so unfair," she said. "I started this petition with the consent of numerous NYU students I was talking to every day. They all condemned the tuition hikes and were suffering terribly, but they also thought it was something to accept because nothing would make a difference."
NYU hasn't responded to Mirza directly, although the university did issue a statement that the tuition has not "suddenly" been raised. "The cost of attendance for NYU for 2014-15 is $66,542," school spokesman John Beckman told Mic. "Of the seeming $4,500 difference between this year's cost of attendance and next year's, $2,000 is an estimate of indirect costs not paid to NYU, and the remainder is an annual increase in tuition and fees that — at about 3% — is in line with NYU's recent history and that of other private universities."
Beckman also cited improvements to the school's financial aid program. "[NYU] increased the financial aid budget over 140% since 2002," he said. "The average scholarship grant we give has increased from 34% of tuition to 55% of tuition over the last 10 years, and we have undertaken a $1 billion campaign to raise money for scholarship grant aid."
The school's defense hasn't inspired Mirza to drop the petition. "This ordeal has really given me a disappointing picture of the NYU administration," she said. "But it was not the administration that I loved when I applied, right? It was the teaching methods, the opportunities, the student life, the prospect of growing into a well-developed professional."
Where does all that tuition money go? Despite being one of the more prestigious universities in the country — the school counts 36 Nobel Prize winners, 16 Pulitzer Prize winners and more than 30 Academy Award winners among its faculty and alumni — NYU has a relatively paltry endowment compared to schools of similar size and academic rigor. The University of Michigan's $9.7 billion endowment equals out to $223,060.17 per student, while Northwestern University's similarly sized endowment equates to $456,857.08. NYU's $3.5 billion endowment? Only $65,090.85 per student.
This relatively low endowment is frequently pointed to as the justification for NYU's high tuition costs (if you think an undergraduate degree is expensive, try paying for medical school). According to NYU's fiscal 2015 budget, $2.36 billion of its $2.8 billion budget is paid for by tuition, fees and student housing and dining programs.
The school's administration, however, has come under fire for taking more than its share of the spoils. NYU has forgiven six-figure mortgages for its more famous faculty and administrators, and has also helped foot the bill for professorial vacation homes.
According to a blockbuster 2013 report by the New York Times, the Fire Island home of outgoing NYU president John Sexton — "an elegant modern beach house that extends across three lots ... bought with a $600,000 loan from an NYU foundation that eventually grew to be $1 million" — was financed with just one of many loans made by the school to executives and star professors. According to the New York Times, NYU Law School dean Richard Revesz and his wife, a fellow NYU professor, owed the university $5.7 million on housing loans for their West Village townhouse and 65-acre home in Litchfield County, Connecticut. NYU has since stopped offering loans for second homes.
The university has also spent millions financing the creation of so-called "Portal Campuses" in Shanghai and Abu Dhabi, in the United Arab Emirates, as well as a shuttered campus in Singapore. Despite protests from students citing the dubious human-rights records of the countries hosting NYU's satellite campuses, the schools are considered cash cows by the university, largely attracting international students who are required to pay full tuition. According to NYU's admissions department, a considerable chunk of this year's record applications were submitted to these overseas campuses, with a 26% rise in applicants to NYU Abu Dhabi and a 31% increase in applications to NYU Shanghai.
College costs aren't just outrageous at NYU. According to Bloomberg News, the cost of higher education has risen by 1,225% since 1978, beating increases in the cost of medical care, housing, even food. Student loan debt in the United States has risen to $1.2 trillion, dwarfing both credit card debt and automobile loans. More than 7 million people are currently in default over student loans.
Part of the blame lies with the good intentions of the federal government. The Higher Education Act of 1965 was signed into law as part of President Lyndon Johnson's "Great Society" agenda, creating low-interest student loans for students seeking postsecondary educations previously limited only to the well-off. Unscrupulous schools, particularly for-profit universities of questionable utility, took advantage of the easy money.
Additionally, colleges and universities now had to compete for a much larger applicant pool, installing high-tech fitness centers and hot tubs to lure students looking for the ultimate college experience. But climbing walls and student centers aren't cheap, and the scores of private college presidents who are paid more than $1 million a year haven't volunteered to shell out for them.
Is a college degree "worth it"? The conversation regarding the skyrocketing cost of higher education in the United States has largely revolved around the question of whether a degree in, say, semiotics is "worth" taking on tens, even hundreds of thousands of dollars in debt. Think pieces about the alleged uselessness of an Ivy League education (penned by Ivy League graduates, natch) have been nearly as prevalent as presidential criticism of art history as an academic discipline.
If graduates don't want to go into debt, the thinking goes, then they should only go to schools they can afford, or only major in studies that will boost their career prospects in fields that will allow them to pay off that debt. Taking on $200,000 in debt to major in sociology is a fool's errand, according to this utilitarian view of postsecondary education.
To a large extent, college students have listened. Enrollment in both undergraduate and graduate programs has declines — law schools are particularly hard hit — and those who are enrolling in school are choosing to pursue careers that allow them to pay off their student loans. According to the Harvard Crimson's 2014 Senior Survey, 31% of the Class of 2014 went into the finance and consulting industries, followed by 15% of their classmates who went into the technology and engineering sectors. Only 9% of Harvard's graduating class went into public service or nonprofit work. Every time one of America's smartest, hardest-working college graduates is railroaded into taking a job in the financial sector to pay for their education, society is robbed of a potentially brilliant teacher, writer, public servant or artist.
The argument that the liberal arts, or college in general, is the exclusive right of the independently wealthy reeks of classism and ignores the true value of higher education. It may sound dumb or wasteful that 15% of mail carriers have bachelor's degrees, but it's equally dumb and wasteful for the wealthiest nation on earth to have tens of millions of citizens who may never meet someone who's not from their hometown, or may never be taught a foreign language. An informed electorate is the linchpin of democracy, and one of the best ways to create an informed electorate is to make higher education available to all citizens — even those who want to study anthropology.
The origin of the term "liberal arts" is evidence enough. In the days of the Roman Republic, slaves were entitled to the study of any subject so long as it was dubbed "practical." Slaves could take math, some science and engineering, but subjects like history, philosophy and rhetoric were forbidden. These arts of persuasion were reserved only for the liber, the "free." Why? Because the ancient Romans didn't want to arm slaves with the tools of education that would allow them to say, "We should be free."
Nia Mirza, the incoming freshman whose petition has garnered nationwide attention for decrying just this type of thinking, doesn't plan on letting this hostility to open and accessible higher education stop her advocacy. "I will not let go of any opportunity to condemn what's unfair," she told Mic, "no matter how common it's considered in today's world."