In the Wake of Indiana, Two More States Are Introducing "Religious Freedom" Bills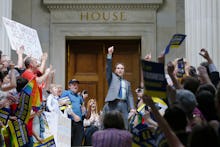 On Tuesday, the Arkansas state legislature passed a bill that would allow individuals and business to deny service to certain patrons on religious grounds. The bill, which will now head to Gov. Asa Hutchinson's desk for signing, is remarkably similar to the Religious Freedom Restoration Act recently passed in Indiana and stirring up all sorts of controversy. 
Yes, you read that right: The Arkansas RFRA would be almost identical the one passed in Indiana, in which broad language opens to the door to potentially limitless unchecked discrimination by preventing the state from interfering in the religious practice of individuals without "compelling interest," USA Today reported.
Despite the avalanche of criticism heaped on Indiana in the form of boycotts from other states, protests from state business titans, a scathing op-ed from Apple CEO Tim Cook and even a jab from the NFL, proponents saw nothing objectionable about moving the legislation forward to the desk of the state's Republican governor.
Efforts by some lawmakers to add an exemption that would explicitly prevent discrimination of LGBT citizens failed.
"There's not really any place to make any changes now," Republican state Rep. Bob Ballinger, who proposed the bill, told the Associated Press. "If there are questions in two years, we can fix it."
State Sen. Bart Hester, another Republican supporter of the bill, told the New York Times, "If you start shaving out exemptions in laws, next thing you know, you'll gut the law because everyone will want an exemption."
If Hutchinson signs the bill, unflattering nationwide attention could shift to the state in a way not seen since former Gov. Orval Faubus tried to halt racial integration during the Little Rock Nine affair of 1957.
Following close behind, last week the North Carolina legislature introduced its own Religious Freedom Restoration Act, which the state's seemingly more sensible Republican governor, Pat McCrory, has already criticized. He seems certain to veto should it reach him.
"It's a poorly thought-out bill," the governor told WFAE, a Charlotte NPR affiliate. A similar bill in Georgia has also stalled. 
Attempts by states to legislate discrimination in the name of religious freedom is an old strategy that goes back decades. As Americans increasingly move towards full acceptance of same-sex marriage, these isolated efforts by reactionary legislatures are a last desperate gasp to preserve a status quo, and it's not going to work.  
h/t New York Times