The Disturbing Trend in How We Talk About Female Musicians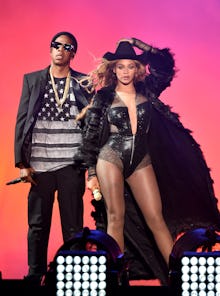 Between the strong performances and feminist statements made by musicians like Beyoncé and Nicki Minaj, the public has been increasingly obsessed with crowning musical "divas." And yet, despite that trend, one old myth still persists: Behind every woman, there's a man pulling the creative strings.
Lily Allen voiced her frustration in a 2014 article with NME. She said, "of those big successful female artists, there is always a 'man behind the woman' piece. If it's Beyoncé, it's Jay Z. If it's Adele, it's Paul Epworth. Me? It was Mark Ronson and the same with Amy Winehouse." This is a longstanding stereotype — usually disguised as a praise for collaboration — that devalues women's contributions to music. It's time to stop it.
The phenomenon is familiar to many female singers. Beyoncé was, for a while, seen as part of Jay Z's empire. Her sister, Solange, fired back at a Pitchfork review that dubbed her the "muse" for her record's producer — even though she co-wrote all the songs.
Pop singer Kesha has struggled throughout the majority of her career to move away from that image. Kesha's first hit, in fact, wasn't even credited to her at all. Flo Rida's "Right Round" was at the top of the Billboard charts for six weeks, but, according to Kesha, she didn't receive any royalties for singing the chorus's hook.
She went on to record her own albums, but soon became known as a product of famous hit-maker Dr. Luke. Later, she sued the producer, saying he had assaulted and abused her. Kesha also told Rolling Stone that Dr. Luke verbally abused her, saying, "You are not that pretty ... You are not that talented. You are just lucky to have me." Whether the accusations stand is a different matter, but what is clear is that even the most successful singers can go through their careers without receiving proper credit. As the New Yorker put it in their profile on Dr. Luke, "Now that [Kesha's] pop-star dreams had come true she was proving hard to control." The dynamic is clear.
The problem isn't specific to pop, though — it extends throughout the music industry. It's perhaps most clear in EDM, known as a particularly gender-imbalanced genre. 
It isn't just the statistics, though. At the end of last year, big-name male DJ Deadmau5 called out electronic group Krewella (comprised of two sisters) for kicking former member Kris Trindl from their group. Deadmau5 said on Twitter that Trindl was the man behind the music — the only reason the group was decent. 
The same stereotype is born out in the opposite situation. Whenever men are in the foreground, there's a woman behind the man, too. She isn't the creative force, though — she's the inspiration. Just look at any of the articles with titles like "Five Famous Musical Muses: The Women Who Inspire Songs and Movements and Stir Libidos," and you'll get the idea. Yoko Ono, John Lennon's great love and wife, was probably one of the most famous muses of all. Yet, often, she's seen as the agent of the Beatles' downfall, as Lennon's muse and distraction rather than his creative partner. The message is clear: Women behind music are simply "inspiration" for the musician, while men are seen as the actual "architects" and "masterminds" behind the musician.
Our culture considers female musicians only as strong as the men who support them, and that's a huge problem. Regarding women this way is a part of the larger trend of sexism in the music industry, and the fact that it's not as blatant and easy to spot as other instances of sexism may make it even more dangerous. This is why it's important to take stock of just how much creativity women in music really are responsible for — and to give them the credit for it they deserve.