Martin O'Malley Wants to Be President, and It's Time We Started Paying Attention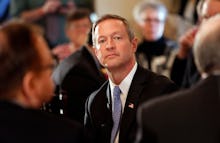 Nashua, N.H. — On the last day of March, a little more than 10 months until voters here start filling up the ballot boxes for their "first in the nation" 2016 presidential primary, Democrat Martin O'Malley is up early and ready to work.
With his second visit to the Granite State in 17 days, the former two-term governor of Maryland is laboring to chip away at Hillary Clinton's death grip on New Hampshire's political apparatus. A new Franklin Pierce poll released Tuesday made dauntingly clear just how difficult that is going to be — O'Malley has the support of 1% of likely voters. Clinton has 47% and Sen. Elizabeth Warren, who hours earlier said she had no interest in joining the race, scored 22%.
But at stops in Bedford and Nashua, O'Malley is calm, broadcasting an unrelenting and purposefully blinkered optimism. In the morning, he delivers his unabashedly liberal vision to establishment Democrats and business groups. 
"Yes, there is a common interest," he tells the breakfast crowd. "Yes, there is a common good. And our government was created to protect it."
By night, he's rallying college kids in the basement bar at Margaritas Mexican on the shallow banks of the Nashua River. The response in both cases is kind but noncommittal. If O'Malley is going to surface and challenge the looming Clinton machine, he will need to forge an empowered and agile coalition — if he fails, it won't be for lack of trying.
The pitch: At Margaritas, New Hampshire's Young Democrats are hosting a "social hour" with O'Malley as the special guest. Pins, placards and koozies bearing his name are spread neatly on bar tables that form a horseshoe around a small dance floor. O'Malley will address a few dozen junior partisans and about a dozen reporters hoping he'll say a cross word or two about Clinton.
"The candidate," as he is known to those not drawing paychecks from his magnificently titled O' Say Can You See PAC, arrives on the scene a little after 6:15 p.m., stopping to chat and receive introductions from all manner of local poobah. Minutes later, the room is hushed, and O'Malley takes his place alongside Young Democrats president Lucas Meyer.
Meyer, 24, pays a booming tribute to the majesty of the Granite State primaries. He tells a story about Tipper Gore, then-wife of former Vice President Al Gore, hosting a small party at his parents' house when Meyer was in fourth grade and her husband was just beginning his ill-fated 2000 White House run.
His silver hair neatly parted, O'Malley flashes a quick smile and nods his thanks after a second speaker mercifully cedes the floor. The former governor can be a bit uneven in his delivery, but at their best, his jabs at the big banks and failed or predatory student loan programs hit with force and passion. He is careful to never describe immigrants as "illegal" or even "undocumented"; rather, they are "new Americans," a shrewdly compassionate construction that puts a charge through the young crowd.
O'Malley is a municipal technocrat, a student of numbers and policy and their confluence with social justice. He is ambitious, as all presidential candidates are, and he talks about his formidable liberal record — his successful work to guarantee marriage equality in Maryland, where he repealed the death penalty and remade the way the state collects and analyzes crime data. He discusses the Dream Act, which he passed in Maryland as the federal version languished in Congress.
But on the stump, he has yet to weave it all into a coherent narrative. The haymakers don't quite land, and by then he's moved on to the effects of America's long post-9/11 wars on young people, and the growing threat to "the optimism that they innately feel in their own hearts." The bartender at the back of the room carries on cleaning pint glasses.
The reaction: Talia Jalette listened to every word. A junior political science and philosophy student at Saint Anselm College, she stopped into Margaritas to get a closer look at the upstart. She liked O'Malley's message, particularly his oft-stated commitment to reducing the cost of higher education, but is still "leaning" toward Clinton.
"Well, the default is Hillary, but I need to weigh my options," she explained. "I do think there's been a lack of energy because it's been a waiting game. Everyone has been predicting that Hillary is going to run for years, but she still hasn't said anything."
One local politico, who would lend his guitar to O'Malley so the candidate could serenade the Margaritas crowd with Woody Guthrie's "This Land is Your Land," was less considerate.
"Yeah, this is all great," he said, grinning and scanning the colorful setup. "But [O'Malley] has no chance."
"Too big" for all this? The Young Democrats event was O'Malley's second stop of the day. At the "Politics and Eggs" breakfast earlier Tuesday, he made a brief speech to an assortment of local business and corporate leaders, including representatives from Bank of America, Comcast and AT&T. After his remarks, he happily bowed to convention and put pen to wooden egg shell, signing his name into the annals of New Hampshire political tradition.
"Polls are snapshots in time," O'Malley when asked by a reporter about his low numbers. "History is full of examples where the frontrunner is the frontrunner and totally inevitable right up until the frontrunner is no longer the frontrunner, and no longer inevitable."
As a line formed for pictures, handshakes and, inevitably, a word with the governor, a 21-year-old college student named Martina Cohran was also holding court. A junior at nearby New England College, Cohran didn't know much about O'Malley before getting the invitation to Tuesday morning's event. But she said he made a good impression with his detailed talk about student debt issues.
"Seven percent compounded interest builds up before a kid's even out of college?" O'Malley had asked rhetorically, incredulously. "We found ways to bail out banks, didn't we? We can certainly bail out the American dream for all those kids who are otherwise going to labor under debt for the rest of their lives."
Cohran and her friend, fellow student Medjene Bobo, had particularly enjoyed that flourish. But the conversation soon turned to Clinton. Did the fact that she's not here, not doing these kind of things and speaking to people, bother them at all?
"Nah," Cohran said with a smile, "she's bigger than all that."
O'Malley's chances: Part of O'Malley's problem is, ironically, Clinton's absence. She has not formally declared a candidacy, nor has she made the pilgrimage to New Hampshire since November. It wasn't until Sunday that O'Malley took a dig at Clinton, telling ABC's This Week that the "presidency of the United States is not some crown to be passed between two families." But even then, when host George Stephanopoulos pressed him, O'Malley stuck to his half-measures, refusing to name names. "Any two families," he said.
Taking questions one last time on Tuesday night in Nashua, O'Malley was asked, again, to explain why exactly he believes this small campaign has what it takes to breach Clinton's New Hampshire firewall. He paused, his mind spinning briefly in place. Eventually, his eyes focused in and the smile returned. He's found the line again.
"History," O'Malley says for the second time in less than 12 hours, "is full of examples of the inevitable front-runner being inevitable right up until he or she is no longer inevitable."
And with that, he's on his way. For this night at least, it feels something like a campaign slogan.