5 Important Things You Learn About Sex When You Perform Sex Blogs On Stage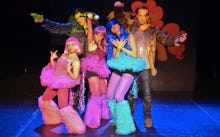 Sex blogs shine a light on the intricacies and diversity of sexual desire, validating each and every impulse we humans have. The trouble is, we're usually reading them alone.
Two female comedians, Allison Goldberg and Jen Jamula, hope to change all that. The pair are co-creators of Blogologues, a sketch comedy show that bills itself as "The Internet performed." Mining from Internet content including Amazon reviews, Craigslist Missed Connections and personal blog posts, Blogologues takes verbatim text from the web and brings it to life.
Their latest show, "Blogologues: The A.S.S. Strikes Back," is their third annual sex-themed venture. With sketches that cover everything from that viral Excel spreadsheet to the worst OkCupid date ever, the live show is a hilarious romp that also manages to do something important: Give voice to the many desires, fetishes and anxieties so many of us experience with sex, but rarely share out loud.
Here's what we can learn about each other when sex talk steps out of the Internet shadows and gets read aloud.
We all have sexual fantasies, and no two are exactly the same.
"Is it normal to hoard milkmen in my attic?" reads an entry to the website Is It Normal?. A housewife, tired of her neglectful family, begins to seduce milkmen and stows them in her attic for her own pleasure. 
Another blog post, titled, "Dekhyr Dragon's Guide to Sex with Cars (for males)" details a long list of instructions for getting it on with a car. No, not in a car — with a car. "How can you have sex with a car? The short answer is, up the tailpipe."
Blogologues is careful to include a wide range of fantasies in their selections, because no two are the same. "A real goal of ours ... is to capture a community of people who are just sort of coming into the mainstream, capturing their online presence and putting it on stage," Jamula told Mic, citing a piece about Bronies the troupe performed last year. 
"That's kind of the beauty of the Internet, in that everyone's voice is out there, people can find their own community," Goldberg told Mic. 
There's nothing shameful about sexual activity.
The scene opens with a man in a confessional booth, talking to a priest. The man admits that, in a scramble to find a tissue while masturbating, he accidentally ejaculated on his son's homework. The priest, without missing a beat, offers his instructions: "Spill coffee on it. Write him a note for class. Don't jizz on the note." It's scripted straight from a Reddit comment thread.
For Goldberg and Jamula, sex needs more of this type of honest confession followed up with an understanding, non-judgmental reaction. "We try very hard not to make fun of anyone," Goldberg said. That's especially important considering all the texts being acted out were written by real people.
"We really talk about, who are these people, where are they, why are they saying this, what's going on here," Goldberg said. "So we really try to treat it as very real, because the fact is, yeah, some people make up stories on the Internet, but most of the stuff that we're doing is someone's real story."
Studies have shown that the breadth of fantasies runs wide, something we all need to take into account when confronting other people's fantasies that strike us as unfamiliar or bizarre. "We think it's all OK as long as it's not hurting anybody," Goldberg said. 
Sex doesn't have to be so serious.
In the Blogologues opening sketch, Luke Skywalker is throwing a surprise party for Han Solo. The kicker? Luke is pregnant, and it's Han's kid. It may sound absurd, but it's straight from a page of a fan fiction exploring the Mpreg genre, a common male pregnancy fantasy.
If Jamula and Goldberg understand one thing, it's that sex — from our fantasies to the acts themselves — can be funny and sex at the same time. In fact, some of the most seductive moments happen when we're hilariously fumbling around each other.
"The show is comedy," Goldberg said, "but a lot of the raw material is not necessarily funny on the page, it's just so fascinating. So we look for really fascinating stories and we look for sort of niche stories — so giving voice to unheard or under-represented voices." 
And if those stories are lighthearted, it doesn't make them any less legitimate. 
The Internet has changed the way we communicate about sex and dating.
One blog post written by Isabelle Magliari, "My Top 3 Worst OkCupid Dates of All Time" follows a woman on a seemingly successful date walking around Park Slope with an OkCupid match. Everything seems to be going fine until he brings her back to his unfurnished apartment and asks her to read his own erotic fan fiction to him. It's a scenario that would have never played out before the advent of online dating, but that's precisely why Blogologues felt was important to bring to the stage.
"We really are trying to look at how new media is changing the ways we communicate. So nothing shows that more than online dating," Goldberg said. "I think dating apps in particular say so much about our culture and are really changing the way we interact, for better or worse — I mean, you could argue both sides."
Just as the Internet can facilitate conversation about sex, it can also be a barrier for earnest communication. "On the one hand, it's amazing how many people are meeting through online dating," Goldberg said. "On the other hand, it's sad how people don't really approach people in bars and just say hello." 
The only way to normalize sex is to talk about it.
Whatever sex writing entails — be it the FAQ page of a sex robot company or ruminations on a Vajankle (look it up, but not in public) — the only way to feel like we aren't utterly alone in our sexual desires is to express them and connect with others. After all, the urge to blog about sex often comes from the fear that our fantasies will be judged if we admitted them in person to those closest to us.
If everything is "normal" on the Internet, Goldberg and Jamula hope to make everything normal offline as well. "I think, weirdly, the one thing people all probably have experience at some point ... [is] sex on the Internet," Jamula said. "In a strange way, people feel comfortable laughing at it together, but they don't want to actually say the words themselves."