These 6 Apps Prove Just How Absurd the Dating World Has Become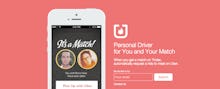 It's like two perfect apps joining up to make a super-app: Uber for Tinder. Who wouldn't appreciate a town car to shuttle them to and from their latest hookup?
Except it's not real. 
Alas, Uber for Tinder (and Tinder for Uber) are just two of the many faux dating apps floating around the self-indulgent Internet on April Fools' Day. Each fake concept is hyper-specific, and plenty of them are just companies using the holiday as a marketing opportunity.
But one thing is fairly striking: None of these apps sound particularly unrealistic.
The fact that we can reasonably imagine a dating app that builds in transportation, or an app that connects people with similar literary tastes, isn't so much a sign that these concepts are necessary. Instead, it's a sign that the world of dating apps and websites has officially, and hilariously, jumped the shark. No conceit is too weird or obscure — we have High There, an actual "Tinder for stoners" app, and GlutenfreeSingles, a dating site for... well, you get it.
Dating is officially a $2.1 billion industry, and the corporate thirst to tap into the market and become the next Tinder for you-name-it has driven the apps to increasingly niche places — to the point where April Fools' Day app concepts actually sound pretty real. Here are our favorites.
Uber for Tinder, for everyone too lazy to take a cab
The simple but brilliant concept: "When you get a match on Tinder, automatically request a ride to meet on Uber." Sure, it's indulgent and unnecessary. But so is having unlimited potential sex partners at your fingertips at all hours of the day. It's a glorious world we live in, isn't it?
Tinder for Uber, for all the thirsty drivers  
Uber drivers shouldn't be left out of the fun, should they? This concept is also useful, albeit not so believable. Perhaps next we could have Tinder for Seamless delivery guys, so you could order dinner and a hookup all at once. We already have a tagline: "Satisfaction guaranteed." 
Roku Rendezvous, for the obsessive binge-watchers
Promoted by the TV streaming company on its blog today, Roku Rendezvous cites several "statistics" that should incline TV watchers to seek out partners who share their entertainment tastes. A taste: "65% [of streamers] reported one or more past relationships ended due to opposing tastes/opinions in entertainment. Spoiler alert: divorces that cite irreconcilable entertainment differences are on a sharp rise."
STAnder, for the international globe-trotters
Hey, Tinder is already making it happen with its new multi-city feature. STA Travel announced its own (fake) dating app in a press release, touting several features that, if we're being honest, sound pretty great: discounted priority spaces on "single-only" airline flights, bus tours, sailing trips. 
"We all know couples that have been lucky enough to have met their partners when traveling, and STAnder is just another way to help single travelers safely meet up other like-minded travelers!" states the release. That doesn't actually sound so crazy.
KINDLR, for all the book worms
Pulling out one key trait we're already listing on our OkCupid profiles — our favorite books — isn't such a bad idea for an app. Brought to us by the jokesters at popular literature site Goodreads, KINDLR claims to match users with a "potential library-mate" thanks to a special algorithm (of course) that aligns people "based on their bookshelves." 
We already know that sharing literary tastes and reading together can be good for a relationship — why not seek out someone who shares your love of Jeffrey Eugenides and Jonathan Franzen in the first place?
Playdating, for ... toddlers?
"97% of people between the ages of 2 and 5 are single," says Hinge CEO and founder Justin McLeod in the promo video for Hinge's latest (fake) venture: Playdating. The concept itself may be creepy (we'd really prefer not to picture toddlers in hookup situations), but we have to admit the video is well done, down to the inclusion of "what users want to be when they grow up" as a piece of the app algorithm. 
Plus, wouldn't some moms and dads appreciate a service to help them schedule playdates? Hinge might be onto something.