Incredible Photos from Space Give a New Perspective to a Massive Typhoon on Earth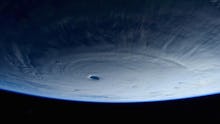 At sea level, Super Typhoon Maysak is a hostile juggernaut of a storm, a terrifying, spiraling red-and-yellow mass on a weatherman's map, pummeling anything in its reach with 160 mph winds.
But 230 miles from Earth, roughly where the International Space Station orbits, Maysak is jaw-droppingly beautiful. Its eye, which tunnels down so far you can see its shadow in the vortex, looks like a finger hole for a massive interstellar bowling ball. It seems almost like if you were to look down in it, you'd see the inside of the Earth, not just the briefly peaceful area in the eye of a typhoon.
Astronauts above the ISS were able to capture close-up (relatively speaking) photos of Maysak between March 31 and April 1.
Being this beautiful comes at a price, and Maysak is setting the records to prove it. According to Jeff Masters at Wunderground and Weather.com, Maysak is the third super typhoon of this strength — Category 5, or strongman car-flipping strength — to appear before April 1, an unusually high number this early in the year.
The super typhoon has already slammed Chuuk in Micronesia and the island of Yap, where residents have been told to expect 74-mph winds.
From the ground, all they see of Maysak is pummeling fists of rain. But from space, you see the big picture, a viciously stunning anomaly stretching out across the planet.
But the fact that we're seeing it at all this early in the year could pose a problem. Masters attributes it to sea surface temperatures being higher than they should be — as much as 3.6 degrees Fahrenheit above normal for that area of the Pacific. And since typhoons are basically big heat engines fed by warm water, the increasingly early rise in ocean temperatures points to the effects of global warming in a very real, very dangerous way.