11 Powerful Photos Capture a Dark Side of Australia's History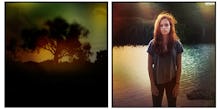 From the 1920s until as late as the 1970s, upwards of 50,000 aboriginal Australian children were forced out of their homes by missionaries and government officials to make them servants to colonial settlers.
The Australian government released a horrifying report in 1997, "Bringing Them Home," which documented how these children were denied their cultural roots, forced into slave labor and abused, the Guardian reported in 2014.
Australia has recognized these atrocities with National Sorry Day on May 26 for almost 20 years. Yet it wasn't until 2008 that former Australian Prime Minister Kevin Rudd issued an official apology to the "Stolen Generations" of aboriginal children subjected to this unthinkable trauma. "For the pain, suffering and hurt of these Stolen Generations, their descendants and for their families left behind, we say sorry," Rudd said in 2008. "For the future, we take heart, resolving that this new page in the history of our great continent can now be written."
But years later, aboriginal Australians still face plenty of discrimination and disadvantages in their country. Photographer Aletheia Casey considers herself among those who are unsatisfied with the government's response, so she is contributing to the healing process through her project, "After the Apology."
While Casey acknowledged that the Australian government's public apology was significant, she questioned the motivations behind it. She told Mic in an email that she wanted to know whether the apology was "simply an acknowledgment of 'white guilt'" and whether or not the apology would have "long-term healing effects on the people who had been directly affected by the laws of the past."
To explore these questions, Casey photographed indigenous women because, as she told Mic, "Indigenous women throughout the past have been marginalized from Australian society, and these women have had to struggle even harder than men to have their voices heard within the Australian cultural context." 
The photographer paired portraits with landscapes to emphasize the trauma of being physically removed from one's place of origin. "The Stolen Generations were not only removed from their families, but they were also removed from their place of belonging, their land, and from their long history as custodians of the land," Casey told Mic.
She said she included many generations of women to emphasize that the Australian government must recognize that its actions had "a trickle down effect on the consequent generations." Casey told Mic, "We cannot underestimate the ongoing effects of what has happened in the past and how this resonates in the present and affects future generations."
In addition to putting this historically silenced group front and center, Casey said she hopes "After the Apology" will force Australian society to sincerely grapple with the truth at the heart of this atrocity. 
Casey shared no plans of wrapping up this project. Instead, she said she wants to use it as an ongoing way to help this group heal. "I'm currently expanding the project to remote areas of Australia in an attempt to give a voice to as many First Peoples of Australia as possible who were affected by past governments' discriminatory policies," she told Mic. She also wants to stage an exhibition of the photos timed to the 10th anniversary of the government's formal apology.
"It's necessary for Australian society to recognize and deal with the traumas in its recent past," the photographer told Mic, so that the nation may "form a truly inclusive national identity which acknowledges our history and embraces a shared future." 
Correction: April 10, 2015