Thanks to His Son, Arkansas' Governor Had a Change of Heart on the Anti-Gay Bill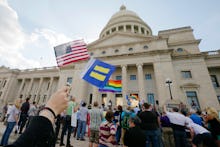 Republican Arkansas Gov. Asa Hutchinson indicated on Wednesday that he would not sign a Religious Freedom Restoration Act recently passed by the state's legislature, and urged lawmakers to revisit the bill for amendments. 
Partly stemming from the backlash Indiana's faced since passing its own RFRA last week, Hutchinson's decision appears to heeded the chorus of criticism and condemnation that such bills effectively become license for anti-gay discrimination. 
The governor made the statement at a press conference where he spoke of a "generational gap" on the issue, which included strong opposition from business leaders throughout the state as well as his own son, Seth.
The younger Hutchison has been a progressive since his college days, according to the governor, and presently works as an organizing coordinator at the Texas State Employees Union. 
In a Facebook message to Mic, Seth wrote that: 
I am happy that my Dad is now calling on legislators to rework HB 1228. I had communicated with him my opposition to the bill, along with thousands of other Arkansans and concerned citizens around the country. I'm proud to have made a small contribution to the overall effort to stop discrimination against the LGBT community in Arkansas, the state that I love (Go hogs!). I love and respect my father very much, but sometimes we have political disagreements, just as many families do. Most importantly, I hope that the groundswell of grassroots opposition to HB 1228 and other similar discriminatory bills around the country will energize more Americans and help create a long-lasting drive for change in this country, on many issues. We must build a mass movement of Americans fighting for economic, environmental, and social justice if we want to see real progress.
Prior to his speech, the governor had widely been expected to sign the bill. As in Indiana, the mayor of the state's capital, Little Rock, also denounced the bill and urged the governor to veto.  
With the Arkansas bill tabled, and similar laws in other states having stalled, attention now focuses back to Indiana where the state's largest paper, the Indianapolis Star, reported Wednesday that new language had been presented that would offer some measure of protection for the state's LGBT citizens.
According to that report, the new wording, crafted by state Republican and business leaders, would "specify that the new religious freedom law cannot be used as a legal defense to discriminate against residents based on their sexual orientation." It would not, however, make LGBT citizens an officially protected class in the state as many activists had hoped for.
In a Wall Street Journal op-ed Tuesday, Pence defended the spirit of the law, saying he abhorred discrimination and that "if I were presented a bill that legalized discrimination against any person or group, I would veto it."
Updated: April 1, 3:09 p.m.