Giuliana Rancic's Response to Thin-Shaming Bullies Deserves a Standing Ovation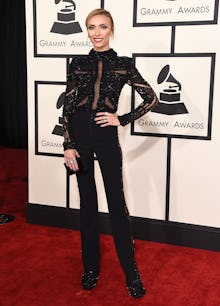 E! News anchor and Fashion Police co-host Giuliana Rancic has spoken up about how remarks about her "disgustingly skinny" body make her feel. "I'm sorry that some people think I'm disgustingly skinny, as they put it, but there's nothing I can do," she told People on Wednesday. "I'm lucky that I even have the type of cancer that reacts to the medicine." 
The breast cancer survivor said she's been on medication ever since undergoing a double mastectomy in 2011, which she said has taken a toll on her body.
Even with the criticism, Rancic said she refuses "to be broken [by what people say]. I have so many beautiful things in my life." 
Thin-shaming still hurts. Fat-shaming stems from a system that discriminates against a set of people by the fashion industry and other institutions that reinforce the idea that thinness is ideal. But fat-shaming and skinny-shaming both negatively and unfairly judge people for their bodily appearance.
People's sizes change for reasons that aren't so readily apparent, such as a chronic illness, an eating disorder or a lack of access to quality food. Body image and health are intersectional and go beyond an individual's willpower or desire to be "fit."
"I eat more than any of my friends," Rancic told People. "I eat a very robust, healthy, balanced diet and dessert almost every night. I'm not hiding from anything." She added, "I look in the mirror and it's hard for me. I am really thin. I want to look fit and beautiful and sexy, and I can't."  
Bullying based on physical appearance is just low. The revelation from Rancic comes weeks after she was roundly rebuked for racially charged comments on Fashion Police, which lampooned Disney actress Zendaya's decision to wear dreadlocks on the Academy Awards red carpet. The controversy ultimately led to co-hosts Kelly Osbourne and Kathy Griffin walking off the show, which is struggling to rebound after host Joan Rivers' death in the fall.
In a statement explaining her decision to leave, Griffin said, "There is plenty to make fun of in pop culture without bringing people's bodies into it. ... I do not want to use my comedy to contribute to a culture of unattainable perfectionism and intolerance towards difference."
Although Rancic faces a different struggle, there is a common denominator: It hurts to be publicly humiliated based on physical appearance. That's especially the case for many women, who are routinely scrutinized over what they wear on red carpets, rather than judged for their achievements.  
Perhaps Rancic's revelation is a sign that she's gained new insights following the backlash she received earlier this year. Hopefully, others will pay attention and learn from her mistake.